A Thank You Message From A Guide Dog Handler
This post may contain affiliate links. We may earn money or products from the companies mentioned in this post.
We received a wonderful thank you message from a guide dog handler we met on Facebook and wanted to share her appreciation with all our readers especially our puppy raiser readers.
As many of you already know I'm a guide dog puppy raiser for Guide Dogs of America.  If you've been following our blog then you also know that my 3rd guide dog puppy in training, Dublin recently graduated.  Can I reiterate how proud I am of Dublin!
Since Dublin graduated I've received lots of emails and comments thanking me for being a puppy raiser.  I really appreciate all the nice messages from everyone, thank you!
Today I wanted to share one of the emails I recently received from a guide dog handler located all the way on the east coast (that's far for us Californians)!
Thank You Email From A Guide Handler
We love sharing our puppy training tips, pictures, and videos from our experiences as guide dog puppy raisers.  We're very lucky that we get to talk to many supportive people on our Facebook page, Twitter account, YouTube Channel, and right here on the blog.
Not that long ago we received a very nice message from Katie and her Guide Dog Bau.  We got an email from Katie on our Facebook page, but we asked her if we could share this private message with our readers and she said yes!
Here's the email Katie and Bau sent us on Facebook:
Hi Colby and Pups!

I've posted on your Facebook page, but I wanted to send you a private message to thank you for all you do. To guide dog users, people like you are the real heros.

I live in Massachusetts, and am currently working with my third guide dog, a male black lab named Bau (italian for bark, or bow-wow). We have only been a team a few short months, but he is a great little worker that loves to please. He was raised by two actresses; Isabella Rosselini, and Linda Larkin (the voice of princess Jasmine on Disney's Aladdin). I am in touch with them via email.

I retired my second guide, Traveler in the beginning of January. I had a great relationship with his raisers, a family that lives in Baltimore. Both parents were teachers, so he spend a lot of time in classrooms, which really came in handy when I was in college. All three of my dogs have been from the Guide Dog Foundation in New York.

I work at two different radio stations, and both Traveler and Bau love being in the studios with me.

In any case, I just wanted to send a message to thank you for all you do. I love watching your videos and seeing how the GDA puppy program works. It's fascinating to see the different practices that each school has (most of the training elements are very similar to GDF).

Training with a new guide dog is a very exciting and emotional time. One of my favorite parts of the experience is getting to meet my dog's puppy raiser. It's great to hear stories about our dogs when they were pups, and to know how much they were loved. I feel like my dog's puppy raisers are part of my extended family.

In any case, I just wanted to thank you so much for all the work you do as a raiser. You are truly a hero and you dedication is VERY appreciated by many. You are a true blessing!

I wanted to show you my boys, so attached you will find a picture of each.

Cheers, and thanks again

Katie and Bau Bau
Katie also shared pictures of her guide dogs: Bau and Traveler.
Here's a great picture of Guide Dog, Bau on the train.
And here's a nice picture of Guide Dog, Traveler smiling!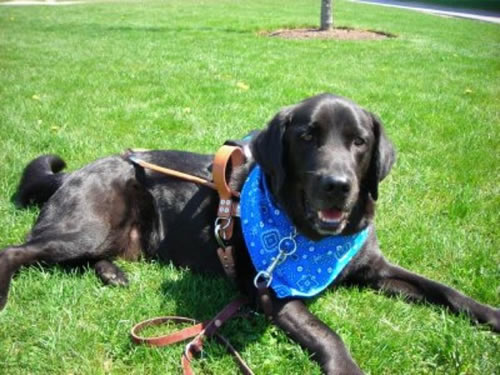 Thank you Katie for the wonderful note and for sharing pictures of Bau and Traveler.  If you have a chance say hi to Katie on Facebook.
Thank you everyone for all the comments, notes, and emails you've been sending congratulating me and Dublin!  You're probably going to get tired of hearing me say this, but I'm so happy and proud of my little boy.  I hope he's having fun with Liz in Arizona.
Just in case you don't follow us on Facebook.  I heard from Liz and and she said that Dublin did well on his first plane flight and passed his first test navigating through a crowd of 300 kids running around at school. Go Dublin!  Don't forget to follow our Facebook Page!
Are you in touch with your guide dog pups and their handlers?  If so, what kind of things are your working guide dogs up to?  Tell us about it in the comment section below.
Top Picks For Our Puppies
Check out more of our favorites on our New Puppy Checklist.