Top 5 Must Have Puppy Products
This post may contain affiliate links. We may earn money or products from the companies mentioned in this post.
I've had Derby my yellow Labrador Retriever GDA puppy in training for a few weeks now and during that time I've re-familiarized myself with some must have puppy products. It's only been a year and a half since I began raising Stetson, but time has eroded my memory and forgotten are the misbehaviors associated with puppyhood.
Well…that has all changed now that Derby is here. The joys and frustrations of owning a puppy are once again at the forefront of my life. Derby now reminds me that there are several products essential to raising a puppy. Although there are many other items you should have before, during, and after puppyhood I decided to put together a list of my top 5 must have puppy products.
Top 5 Must Have Puppy Products
I'd recommend you have all 5 of these products before picking up your puppy.
Dog Crate – Do you plan on crate training your puppy? Crate training is an important part of raising a guide dog and also a great way to house train your puppy. The crate I currently use is the Midwest Life Stages Fold & Carry Wire Mesh Dog Crate – 30″L. I prefer the wire crate because it comes with a divider that allows you to partition your crate allowing your puppy to use the crate from puppyhood to adulthood. A second advantage to this crate is it collapses allowing for easier storage.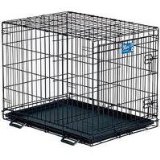 Durable Nylabone – It's a good idea to have several toys made of different textures. I'm a fan of the Nylabone for redirecting a mouthy puppy. The Nylabone is durable and will usually last a long time. When my puppy puts his mouth on my hand I always have a Nylabone handy, slide my hand out, and replace with Nylabone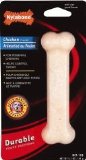 Bitter Apple Spray – Does your puppy chew on his leash, your carpet, your shoes, your hand? I use the Bitter Apple spray to deter my puppies chewing habit. When I notice Derby chewing on his leash I douse it with Bitter Apple. He will not put his mouth on anything I spray with Bitter Apple. Over time he'll learn what is appropriate and inappropriate to chew on.
Large Classic Plush Mallard – As I mentioned earlier it is important to have many toys with different textures. A plush toy with a squeaky in the middle will entertain your puppy for long periods of time. I also use it to work on Derby's fetch and retrieve skills (GDA puppies in training are not allowed to play fetch and retrieve with the standard tennis ball). There are many plush toys out on the market and one of my favorites is the Jakks Pacific line-up of plush toys. My dogs and puppies really like the Mallard for some reason.

Nature's Miracle Stain & Odor Remover – A puppy as young as Derby is bound to have one or two accidents in the house (probably more like one or two a day). If you're puppy has an accident in the house it's important that you properly clean up the mess. Nature's Miracle completely eliminates urine odors and stains with no perfume cover-up discouraging new pet soilings.
There are definitely many other essential products required for raising a puppy. What other products do you consider essential when raising a puppy?
Related Article:
Top Picks For Our Puppies
Check out more of our favorites on our New Puppy Checklist.