Where Can I Get Wellness Grain Free And How Much Should I Feed M y Dogs? #GrainFreeForMe
This post may contain affiliate links. We may earn money or products from the companies mentioned in this post.
This post is sponsored by Wellness® Natural Pet Food and the BlogPaws® Pet Influencer Network™. I am being compensated to help share the reinvented Complete Health Line and other Wellness Products, but we only share information we feel is relevant to our readers. Wellness is not responsible for the content of this article.
We've been feeding our dogs Wellness® Grain Free dog food for over 3 years. In fact we started researching new dog foods when our vet said we could try switching dog foods and to try a novel grain free food to help alleviate Stetson's dog skin problems.
We researched many different brands of food and Wellness Core® Grain Free rose to the top of our list as a premium dog food at a reasonable price.
Recently we had the chance to try a different Wellness grain free recipe, the reinvented Complete Health™ line of dog food. So, a couple months back we switched Archer over to this new line of food. So how is Archer doing on his new dog food? We plan on keeping him on Wellness Complete Health and also moving our Golden Retriever, Raven over to this line of dog food!
Why We Like Wellness Grain Free Dog Foods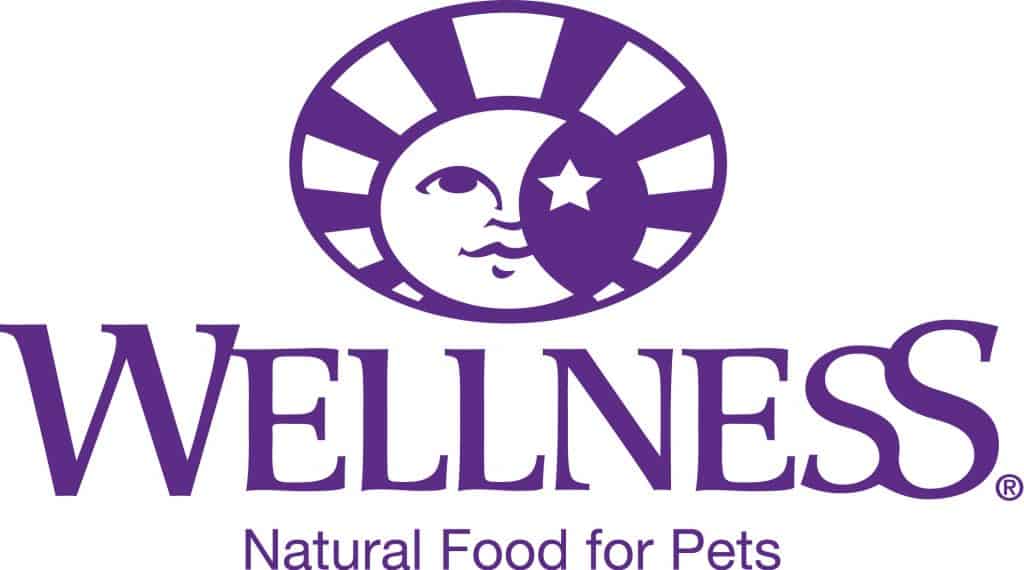 We had the opportunity to interact with Wellness representatives and others feeding their dogs Wellness at a recent #BlogPawsChat. Here are a few things we learned:
Wellness uses healthy fats like chicken fat, salmon oil & canola oil, which support healthy skin & coat, proper body function & enhanced learning of young puppies. My wife has been saying Stetson's coat has been looking great!
Wellness uses a variety of fresh & dried fruits & vegetables rich in nutrients that provide flavor, taste & fiber.
Wellness Mission: To help you provide your pet a healthy, happy, long life through the power of natural nutrition.
One of the most interesting things we learned was about the WellPet Foundation and how they are supporting non-profits. As a service dog puppy raiser and someone who volunteers at shelters, rescues and other non-profits it's important to see large companies support local charities.
How Much Wellness Should I Give My Dogs?
You'll find a chart on the back of your bag of Wellness Dog Food indicating the amount they recommend feeding your pet. However, as a famous pirate once said: "…those are more what you'd call "guidelines" than actual rules."
So how much do I feed my dogs? I will first start with the "guidelines" from the side of the bag, but as you'll come to realize every dog is different. Depending on your dog's age, size, breed, activity level, and a slew of other factors your dog will probably eat more or less then the set guidelines. Here's a chart showing what I'm currently feeding my dogs:
| | | | | | | |
| --- | --- | --- | --- | --- | --- | --- |
| Dog | Breed | Weight | Age | Activity Level | Wellness Food | Amount of Food |
| Archer | Labrador Retriever | 55 lbs | 1 year | Very High | Complete Health | 2 cups 2x a day |
| Raven | Golden Retriever | 70 lbs | 2 years | High | Core | 2 cups 2x a day |
| Stetson | Labrador Retriever | 80 lbs | 10 years | Low | Core | 1 cup 2x a day |
| Linus | Australian Shepherd Mix | 50 lbs | 12 years | Medium | Core | 1 cup 2x a day |
Believe it or not when Stetson was a youngster he would eat twice as much food. Today, he's my Ferdinand the Bull. He walks around the yard sniffing the flowers while the other three like to run around the yard.
Where Can I Find Wellness Natural Pet Foods?
We're lucky to have a PetSmart located no more than 10 minutes from our house! We love going to the stores to work on Archer's training as well as buy treats, toys and dog food for the pups. Archer knows exactly where we go to pick up our bag of Wellness Core or Complete Health dog food as you can see in the video below.

If you are interested in changing to Wellness Complete Health Grain Free dog food starting July 6th through the end of the month, Complete Health™ Grain Free recipes are $2.00 off at PetSmart®.
Follow Wellness in social media at:
So what say you? How much do you feed your dogs? Are you feeding them Wellness? I'd love to hear about your experiences and what you are currently feeding your dogs. Tell us your story in the comment section below.
This is a sponsored conversation written by me on behalf of Wellness® Natural Pet Food. The opinions and text are all mine.
Top Picks For Our Puppies
Check out more of our favorites on our New Puppy Checklist.