Want To Adopt A Puppy? Try PetFinder.com!
This post may contain affiliate links. We may earn money or products from the companies mentioned in this post.
Neary 8 years ago I adopted my first puppy from the Carson Animal Shelter.  It was life changing and adopting Linus had to be one of the best decisions of my life.
At the time my ex-girlfriend and I were visiting many of the local breeders crooning over adorable little puppies.  We saw tiny little Labrador Retriever pups, Golden Retrievers, and Australian Shepherds.
I can still remember seeing 12 little 6 week old Golden Retriever puppies come bursting through the screen door with mom and dad in tow.  I can't recall a more adorable sight.  However, even after seeing all of these cute puppies I always had my eye and heart set on adopting my first puppy.
I remember seeing the blurry picture on PetFinder.com like it was yesterday:
Animal: Dog
Breed: Labrador Retriever/Australian Shepherd
Age: Baby
Gender: Male
Size: Large
Location: Carson Animal Shelter
We hopped in our car drove down to meet this little Lab/Aussie puppy and the rest is history!  Read more about the day we brought home our first puppy, Linus.
For those of you who are looking to adopt a puppy and don't think they have any pups at the shelters or rescues you need to check out PetFinder.com.  There are thousands of puppies listed on PetFinder.com waiting to go to their forever homes.  You can also find hundreds/thousands of local rescues as well as many adoption events occurring in your area of the nation.
We saw this little guy at the Irvine Super Pet Adoption last year.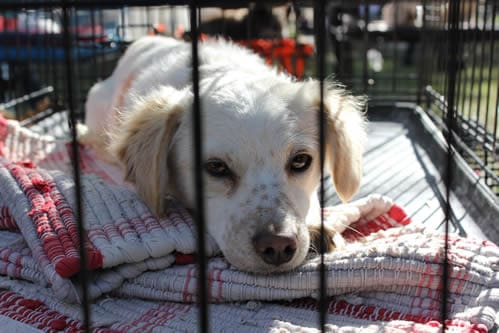 If you're looking for a new pet please consider adopting from your local animal shelter or rescue.  As we can attest it's a wonderful feeling knowing you helped save another life.
Did you adopt your last pet?  Are you planning on adopting?  Tell us about it in the comment section below.
By the way, this was supposed to be my Wordless Wednesday post, but it ended up getting a few hundred words…sorry…
Top Picks For Our Puppies
Check out more of our favorites on our New Puppy Checklist.