What is Big Black Dog Syndrome?
This post may contain affiliate links. We may earn money or products from the companies mentioned in this post.
Have you ever heard of big black dog syndrome? Until just recently I never thought twice about the color of my dogs fur then I heard about big black dog syndrome. I was amazed when I heard that big black dogs were euthanized at a much higher rate then other dogs.
What Is Big Black Dog Syndrome?
As mentioned earlier Big Black Dog Syndrome is basically the fact that big black dogs get euthanized at a much higher rate then other dogs.
There are many ideas and theories as to why black dogs don't get adopted as easily:
They don't show in kennels as well – features on a black dog can often times not be seen very well when shown in a kennel.
Grey hairs show more easily on their coat making them appear older then they actually are
Superstitions and bad press – stories, poems, movies have often portrayed black dogs as fearsome and evil.
Teeth on a black dog can look whiter and more menacing
Black dogs aren't photogenic – we even mentioned this one in a post about Stetson: 4 Steps To Avoid In A Puppy Group Photo
Which Labrador Retriever would you choose?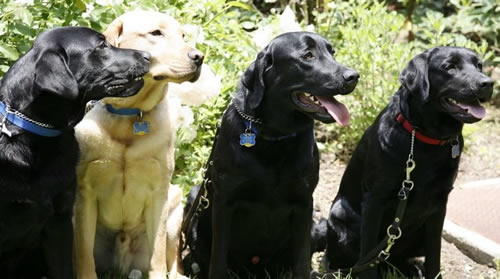 Stetson and his siblings – from left to right Stetson, Stuart, Salem, and Sukie.
Linus the Big Black Dog
Linus is more of a medium sized dog at 55 pounds, but he's tall and lean and therefore looks a little bigger then he really is.
I wasn't sure what kind of dog I was going to get when I picked up Linus from the shelter, but the color of his fur was just one minor detail amongst the different criteria I planned on using to choose my next pet. Before choosing Linus I visited several breeders and had my eye on one particular chunky little yellow Labrador Retriever we visited out in Riverside, CA.
However, a few days after putting a deposit down on the little yellow lab I saw pictures of a couple puppies at animal shelter in Carson, CA. The puppies were mixed Australian Shepherds and in the picture one had a the tri-color look (black, tan, and white) and the other was solid black with a small white spot on his chest.
When we saw the two puppies I remember commenting on how beautiful the tri-color puppy was and was instantly taken by her beautiful coat. However, I still was intent on testing personality over looks (isn't that what we always do when starting a relationship). After putting both puppies through several personality tests I thought both dogs passed with flying colors, but I was leaning towards the solid black puppy versus the tri-color. In the end I ended up taking home the solid black puppy and named him Linus. While I was much more attracted to the tri-color coat I ultimately (and now happily) went with the dog I thought matched my personality best.
I guess Linus wasn't a big puppy, but I knew he was going to be a medium to large dog. If you plan on getting a dog take a good look at the black dogs as well as the other colored dogs. A black dog can be just as good a pet as a golden, white, tri-color, blue merle, and any other color you can think of.
Have you heard of black dog syndrome? Do you have a black dog and why did you choose him or her?
Top Picks For Our Puppies
Check out more of our favorites on our New Puppy Checklist.