Why I Decided To Be A Guide Dog Puppy Raiser
This post may contain affiliate links. We may earn money or products from the companies mentioned in this post.
The third Tuesday of every month we have our Orange County Guide Dogs of America monthly meeting to work on basic obedience with our puppies, discuss upcoming events, and usually we have a topic dedicated for each month.  Last month we had a round table discussion where each puppy raiser talked about themselves for a little bit.  Specifically, we talked about why we decided to be guide dog puppy raisers.
Why I Am A Guide Dog Puppy Raiser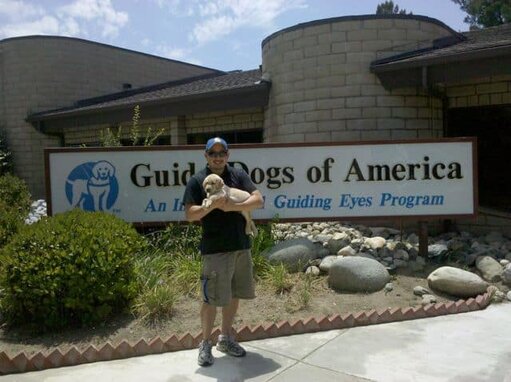 It was nice to hear everyone's answers and it also gave us a chance to know each other a little bit better.  One thing that I thought was nice was the fact that some of the puppy raisers came to our group from events we've attended in the past.  It felt good knowing that getting out into the public and telling people about guide dogs produced results in the form of new puppy raisers.
So why did I decide to become a puppy raiser?  Unfortunately, it's not for some awesome reason, but instead my story is very similar to many other puppy raisers in our group.
Becoming A Puppy Raiser
There are several reasons why I became a puppy raisers.  Here's today's list:
I wanted to volunteer and give back to the community.
I had volunteered for many other charitable organizations, but this time I wanted to volunteer to help animals.
I wanted to raise another puppy after Linus (my rescue pup), but I knew I could not spend time with a new pup at home because of work.  Raising a guide dog puppy was a nice solution as my office allowed me to bring my guide dog pups to work every day as a part of their training and socialization.
I wanted to be a part of a group working towards a goal.  I love our OCGDA group and all the people involved.
I had actually been thinking about becoming a puppy raiser for a while after the April, 2006 OC Pet Expo.  However it wasn't until after my ex-girlfriend broke up with me in the summer time.  That's when everything changed.  I started by fostering puppies for a local rescue called Cuddly Canines.
After fostering over a dozen puppies and dogs I decided that I'd give puppy raising a try which is a much more long term commitment.  As a foster I usually had puppies or dogs for no longer than 3 months.  However, as a guide dog puppy raiser I receive a puppy at 7 weeks of age and raise them until they are around 18 months of age.
Today I'm raising my 4th guide dog puppy in training, Apache a Golden Retriever.  My 3rd puppy, Dublin is currently at guide dog college and I'm hoping that he graduates this month.  My 2nd guide dog pup, Derby was career changed and adopted through the Guide Dogs of America adoption program.  Finally, my 1st pup in training, Stetson was also career changed and lives at home with me where he loves to eat, sleep, and work on his K9 nosework training.
Becoming a guide dog puppy raiser has been a successful venture for me and if you're a dog lover than I highly recommend you look into becoming a puppy raiser.  It's definitely a very rewarding volunteer activity.
If you're interested in puppy raising for Guide Dogs of America then check out their webpage at http://www.guidedogsofamerica.org.
Top Picks For Our Puppies
Check out more of our favorites on our New Puppy Checklist.