Why Guide Dog Puppies Should Not Be Confused As Sniffer Dogs
This post may contain affiliate links. We may earn money or products from the companies mentioned in this post.
Take a look at the logo in the upper right hand corner of this blog. It says:
"Puppy Training Tips From Our Experiences As Guide Dog Puppy Raisers". That's exactly what we've been doing here at PuppyInTraining.com…offering puppy training tips!
You've probably noticed that I've branched off quite a bit since the early days.  I like to talk about Stetson (my career changed guide dog pup) and his K9 Nosework training AKA Sniffer Dogs In Training.  Linus and his work…ummm…being Linus!  And of course the rotating door of my guide dog puppies in training
Stetson (Black Labrador Retriever) – career changed guide pup and living at home with me!
Derby (Yellow Labrador Retriever) – career changed guide pup adopted out through the GDA adoption program.
Dublin (Yellow Labrador Retriever) – currently in formal training and hopefully soon to be graduate!
Apache (Golden Retriever) – my current guide dog puppy in training!
I talk a lot about sniffer dogs and guide dogs and unfortunately it sometimes gets a bit confusing. Today I remember one of the important things we do not allow our guide dog puppies to do that regular puppies dog on an everyday basis and that's sniffing.
Why Guide Dog Puppies Are Not Allowed To Sniff
I remember thinking it quite odd that guide dog puppies were not allowed to sniff and thus should never be mistaken as a sniffer dog. Here's what our puppy manual said:
While out for a walk your puppy should not be allowed to sniff the ground or objects that you pass. This will not be easy to accomplish since puppies are naturally inquisitive. but he might as well learn now to concentrate on what he's doing. If he stops to sniff, say "No" and correct him back into position, then praise him as you continue on your way.

Labradors are especially prone to "vacuum cleaner" behavior and must be discouraged from this.

As your puppy matures, allowing him to sniff might encourage territorial marking both in males and females. It is easier to work with this while your puppy is small and easier to manage.
This is easier said then done. Have you ever had a 7 week old Labrador Retriever puppy? They aren't kidding when they say that Labs are like vacuum cleaners. When I was training Stetson it was an almost constant stream of "No Sniff!" commands as he proceeded to pick up every leaf, pebble, and blade of grass off the ground.
The good news is this worked! Eventually Stetson sniffed less and less even though it was so engrained in his nature to smell just about every tree, bush, mail box, and fire hydrant on our walks. During his 16 months at my place he never developed the territorial marking (lifting of the leg to mark trees..etc) you often see in male dogs. His concentration was much better although from time to time he still air sniffed. And at the time of turn in for formal guide dog training you would not have mistaken Stetson for as a sniffer dog…that all changed after he was dropped from the guide dog program.
Sniffer Dogs And Stetson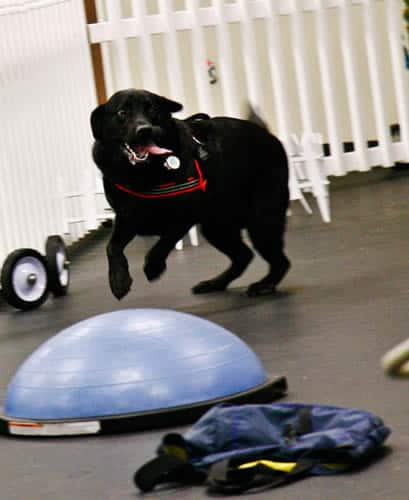 After suppressing Stetson's sniffer dog instincts for the majority of his puppyhood I decided I'd get him involved in K9 Nosework training and boy did he take like a Lab to water. He loves his sniffer dog training classes and his enthusiasm as a sniffer dog is second to none. He flies up and down, back and forth at the speed of light as he looks for his new favorite odor, birch and sniffing is now a huge part of his life.
Now that I've allowed Stetson to pretty much sniff everywhere and anywhere he wants I have noticed some negative behaviors that I did not encounter when he was a guide dog puppy in training.
He's constantly sniffing which means are daily walks take about 5 times longer than normal.
He marks trees, bushes, and just about anything he comes across.
He finds most of the dog poop that others leave out on our walks.
I never really thought to keep up Stetson's guide dog training after he was dropped from the program, but a "No Sniff" policy may have been something worth keeping. I would not replace the joy Stetson has for sniffer training, but on the other hand as I mentioned there are some negative consequences that I've had to deal with since giving his nose the freedom to sniff.
How about you? Do you have a "No Sniff" policy as part of your puppy training? Or is your puppy going to join the ranks of sniffer dogs? Tell us about your dog and his sniffing behaviors in the comment section below.
Top Picks For Our Puppies
Check out more of our favorites on our New Puppy Checklist.