Are You Interested In Puppy Sitting?
This post may contain affiliate links. We may earn money or products from the companies mentioned in this post.
Last week Apache went back to school to start his formal guide dog training.  It's both a happy and sad day.  Happy because he gets to start the next leg in his journey to becoming a guide dog and sad because I will miss having him by my side every day.  However, there are always 2 questions I get asked when I bring my puppy back to school:
When would you like to get another puppy?
Are you interested in puppy sitting?
Actually question #1 usually gets asked before turn in, during turn in, and after turn in.  Why not?  Who could resist an adorable little puppy?  Like I said last week…on our way out we stopped by the nursery to see the adorable puppies…
WARNING: ADORABLE PUPPY PICTURES COMING UP PROCEED AT YOUR OWN RISK!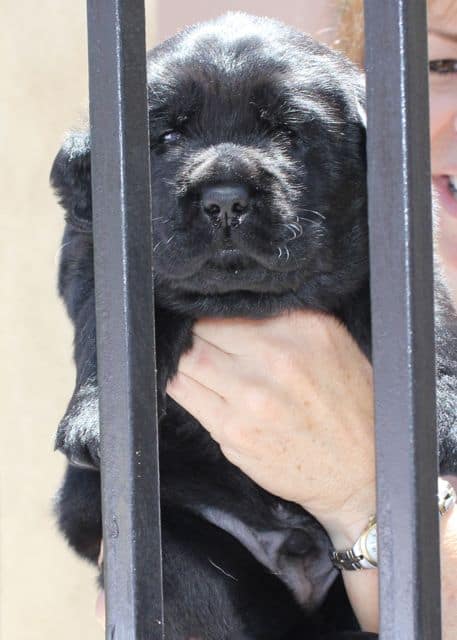 Who could resist that face?  Well, apparently me because when the GDA Puppy Department asked me: "When would you like to get another puppy?"  My answer was that I'd like to take a little break from puppy raising.
However, I had no problem answering yes when I was asked:  "Are you interested in puppy sitting?" It's been less than a week since Apache was turned in to the school and already I've agreed to 2 puppy sitting assignments.
The good news about this past weeks puppy sitting assignment…lots of puppy pics to share!  We post most of our puppy pics to our Facebook page so make sure you "like" our Facebook page.
Puppy Sitting
I like puppy sitting guide dog pups because it's like puppy raising, but it's usually a short term assignment anywhere from 1 day to maybe a couple weeks.  It gives you a chance to work on the same puppy obedience training, socialization, house manners that you do with your own guide dog puppy in training.
We've been puppy sitting an 8 week old yellow Labrador Retriever named Toby who's the cutest most adorable puppy in the world!  Actually, I'll let you decide.  Take a look at some of his pics: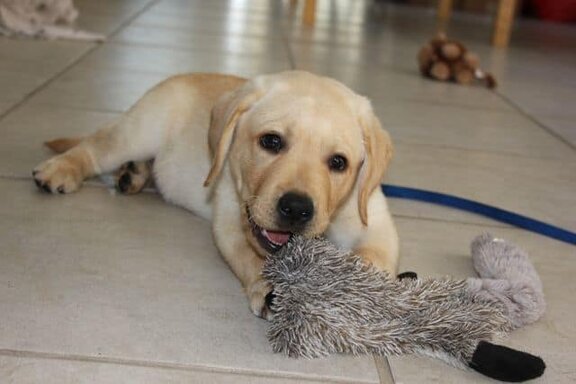 Yep, that's Toby!   He even has a little smile on his face in that picture.  Irresistible!  Toby is learning that he can't harass Stetson and Linus all day and sometimes he needs to just play by himself with his toys.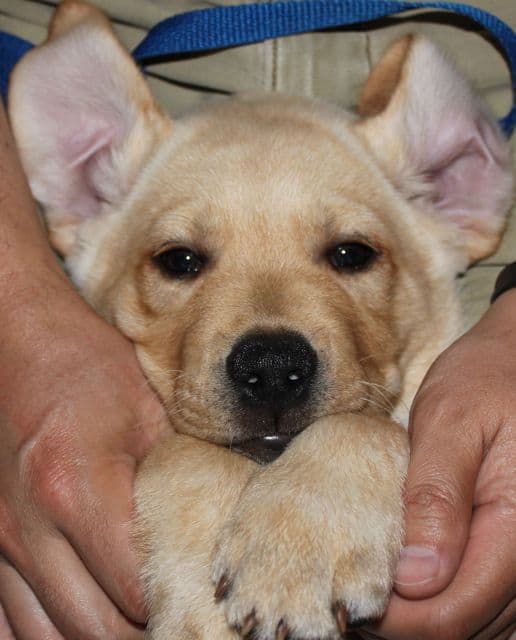 In honor of the release of the latest Batman movie: The Dark Knight Rises, Toby is doing his best Batman impersonation!
Honestly, we're just teaching Toby to be calm while he's cradled.  It's important for us to teach our puppy to be cradled and handled.  A blind person will need to be able to run their hands all over their guide dog in order to check for any health problems.  We practice with our puppy on his back between our legs feeling his tail, ears, face, legs, paws, and chest.  Sometimes it takes a little while to get a puppy used to being cradled and handled so we make sure and work on this with all of our pups.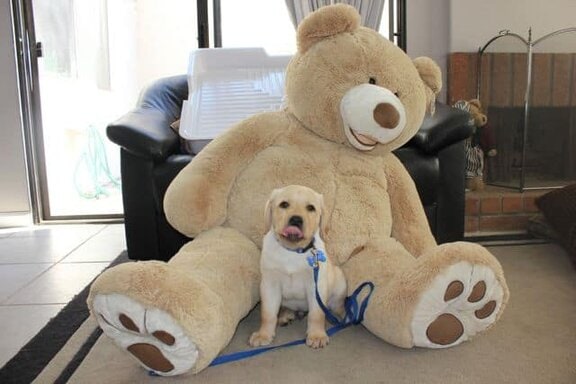 It's good to have lots of different textured dog toys for your puppy.  Okay, so maybe this is an extreme example, but just in case you didn't notice puppy's like to chew.  That is why I recommend many different textured toys (KONG, Nylabone, Plush toys, etc.) because once your puppy gets bored with one type of textured dog toy you can swap it out for a completely different type of toy.  This makes it more interesting for you pup.
Was I right?  Is Toby the cutest little thing you've ever seen?  I'm really enjoying puppy sitting Toby and I will definitely be sad to see him go.  However, my next puppy sitting assignment will start next week so there will be no time to rest.
If you're interested in puppy raising or puppy sitting guide dog puppies then please let me know by sending an email through our contact form or just leave us a comment below.
So how about you?  Are you a puppy sitter or a puppy raiser?

Top Picks For Our Puppies
Check out more of our favorites on our New Puppy Checklist.