What's Up With PuppyInTraining.com?
This post may contain affiliate links. We may earn money or products from the companies mentioned in this post.
WARNING!  Some technical mumbo jumbo and a little bit of venting coming ahead…
At the beginning of the year I set a goal to create 366 blog posts from February 1st 2012 to January 31st 2013.  Basically one post a day.  In case you missed it check out my 2012 goal post.  I was doing quite well missing a couple posts due to unforeseen traveling and internet problems, but besides that everything was going well and everything was right in the world (the world of PuppyInTraining.com that is).
Unfortunately, the happy days never seem to last that long.  Of course someone had to throw a wrench into my happy blogging days (not to mention a screw driver, a hammer, and any other relevant tool).  I recently came across an email message through my Google Webmaster tools informing me that there was unnatural linking on PuppyInTraining.com.  So what the heck does that mean?  I'm just about as dumbfounded as you!  Here' the email message exactly as I received it:
Unnatural Links – Google Webmaster Tools
Subject Line: Google Webmaster Tools notice of detected unnatural links on https://puppyintraining.com/

Dear site owner or webmaster of https://puppyintraining.com/,

We've detected that some of your site's pages may be using techniques that are outside Google's Webmaster Guidelines.

Specifically, look for possibly artificial or unnatural links on your site pointing to other sites that could be intended to manipulate PageRank. Examples of unnatural linking could include selling links to pass PageRank or participating in link schemes.

We encourage you to make changes to your site so that it meets our quality guidelines. Once you've made these changes, please submit your site for reconsideration in Google's search results.

If you have any questions about how to resolve this issue, please see our Webmaster Help Forum for support.

Sincerely,

Google Search Quality Team
Since Google represents about 75% of the traffic to this site when they tell me to jump I say "how high?"  Unfortunately for me I'm not really sure what to make of this whole debacle and because I don't participate in linking schemes of any sort I'm not sure what's going on.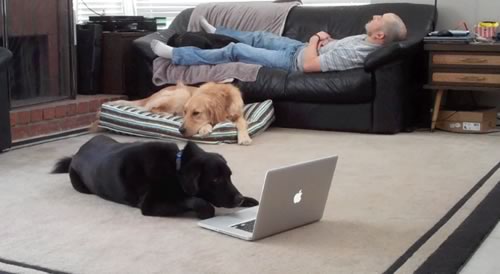 So I sat down at my desk and thought about what could be triggering this email from Google Webmaster Tools.  Here were my thoughts:
I've been monitoring my traffic for the past couple weeks.  My traffic has dropped about 10%.
I notice my pages no longer have a Page Rank.  I used to have hundreds of indexed pages with PR ranging from PR1 – PR5.
I haven't really done any link building in the past 2-3 years besides trying to create great content.  However, I did submit my site to directorys way back in the day and some of those backlinks may appear spammy.  I'm not really sure how to undo that one.
I went into Google Webmaster Tools and I've been attempting to cleanup all of their suggestions.
I have 2 other pet blogs that link back to PuppyInTraining.com, but I really haven't been managing either blog for about 2 years.  So I did the following updates to both blogs because I think Google may think that they are spammy blogs.

Update to the latest version of WordPress
Update all plugins
Turned off commenting and trackbacks
Deleted all of the spammy looking comments
1 of the 2 blogs had a "do follow" comment plugin.  I deactivated this plugin

I used to run a blog carnival.  Some of these links could be spammy as well so I started removing all the links in my blog carnivals.
I had 2 affiliate links in my footer that I changed to "NoFollow"
I removed Chitika ads from the sidebar and below posts
This is what I've done so far and I've been taking about an hour or 2 a day to work on this cleanup and basically that's killing my ability to produce new content. 🙁
By the way, I've also been reading through many forums trying to find answers and no one really knows for sure what's going on.  A lot of people sound like they're in the same boat as me and have not ever participated in a link network nor do they really know what unnatural links Google is talking about.  It appears that 700,000 of these emails went out in January and February 2012.  I received my email late March 2012.  I'm thinking by now Google has probably sent well over a million of these emails.
Another thing to ponder is could this be a result of negative SEO?  Basically if these unnatural links are harming my site (and others) then why couldn't someone just send your site a bunch of spammy links to give you an unnatural link profile and fall out of favor with Google.  Think about it…this could be disastrous!
So, unfortunately I'm going to be changing up my posting schedule so I can work to get this "unnatural linking" business with Google straightened out.  From now on I'm going to post between 3-5 articles a week and use my other spare time to try and clean things up to make Google happy.
Here's my cry for HELP!!!  Have any of you experienced any of this fun and excitement?  If so, what are you doing to fix these problems.  I'd love to hear your suggestions in the comment section below.
Top Picks For Our Puppies
Check out more of our favorites on our New Puppy Checklist.