This post may contain affiliate links. We may earn money or products from the companies mentioned in this post.
Sniffer Dogs, Detection Dogs, Canine Nosework…they are all different names for a dog that is trained to detect substances/odors using their sense of smell.  A recent Oprah article says that "the average canine can detect scents 10,000 to 100,000 times better than the average human."  That's amazing!  No wonder why these animals are so well suited for working as sniffer dogs!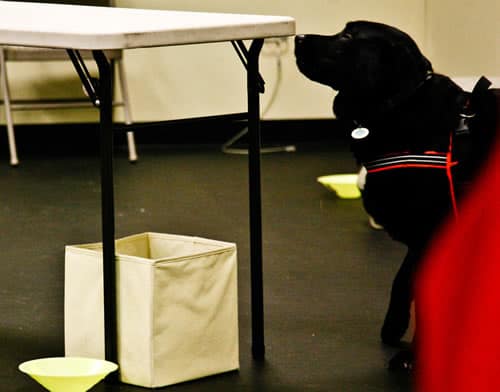 Our black Labrador Retriever, Stetson is a career changed Guide Dog and we've been trying to find something for him to do ever since he was dropped from the guide dog program. We've looked into Therapy Dog Training (we're still interested), Surf Dog Training, Dog Obedience Training, Agility Training (Stetson is not too coordinated), Rally Training, Splash Dog Training (Stetson doesn't like the water), and now we're looking into sniffer dog training! After all we did give Stetson the nickname "Mr. Sniffers" well before we even heard about K9 Nosework Training.
In fact, we're not just looking into having Stetson join the elite group of Sniffer Dogs, but we've already got him involved in his first few canine nosework training classes. If you've been following us on facebook or twitter then you may have already seen some of our short tweets or images about Stetson's sniffer dog training classes.
We recently started our fourth sniffer dog training class (K9 Nosework) and we're finally seeing some progress out of Stetson. So we decided to do some more research on the different kind of careers available to the elite sniffer dogs on the planet.
Sniffer Dogs
Bed Bug Sniffing Dogs – with the recent outbreak of bed bugs we've heard more and more about bed bug sniffing dogs on the news. One of our guide dog puppy raising friends even ran into a bed bug sniffing team while staying in a hotel in Las Vegas. We had a little discussion about it on our facebook fanpage and we were excited about the future of our small group of sniffer dogs in training.
Bomb Sniffing Dogs – we've also heard the term Explosive Detection Dogs. We recently came across a sad story about a bomb sniffing dog team. First the soldier was shot down by a sniper and later in the day his bomb sniffing partner died from a seizure brought on by the tragedy of the events. For more information on this said story check out the video.
Drug Detection Dogs – Probably the first thing we think of when we think of drug detection dogs are those big K9 german shepherd police dogs. Drug Detection Dog publicity: We recently saw an episode of Curb Your Enthusiasm where a drug detection dog detects marijuana in Larry David's coat.
Seizure Detection Dogs – We recently saw a TV show that highlighted Seizure Detection Dogs. In the program we watched a person with epileptic seizures had a personal pet dog that unknowlingly would detect her seizures before they would happen. Her owner noticed the behavior and had a professional service dog trainer work with her pet dog to sharpen the skills and become a certified service (seizure detection) dog.
Arson Dogs – way back when Stetson was a guide dog puppy in training we met an Arson Dog at our OCGDA group meeting. His name was Denali and he was a career changed guide dog. He happily worked with the fire department as an Arson Dog detecting accelerants at fire scenes. In fact we recently heard that Denali will be visiting us again at our upcoming OCGDA meeting. Here's the article we wrote about Denali and Arson Dogs.
Cancer Sniffing Dogs – While watching TV we came across a program that talked a little bit about dogs that could detect cancer. In the program they showed how they work with the cancer sniffing dogs and a spinning wheel that looks something like a lazy susan. We saw a similar device when we were visited by the two Arson Dogs, Denali and Gator.
DVD Sniffing Dogs – We've even heard of DVD Sniffing Dogs and wrote a short article about them. It's hard to imagine that a dog's nose is sensitive enough to hunt down illegal DVD's!
That is just a short list of sniffer dogs we've heard of during our short time working with Stetson and the K9 Nosework team at Wags n Wiggles in Tustin. We're sure their are at least a dozen or more other sniffer dog careers available to dogs who excel at this discipline.
Stetson and I take sniffer dog training classes just for fun, but who nose (pun intended) maybe Stetson will someday become one of the elite Sniffer Dogs in Orange County and we can say he has career changed from guide dog puppy in training to Sniffer Dog!
Does your dog like to use his nose? Maybe sniffer dog training is in your future.
Related Articles:
Top Picks For Our Puppies
Check out more of our favorites on our New Puppy Checklist.