3 Puppy Training Tips I Learned As A Guide Dog Puppy Sitter
This post may contain affiliate links. We may earn money or products from the companies mentioned in this post.
As a guide dog puppy sitter and raiser I face the same and new challenges with each puppy. I'm constantly reminded of lessons and puppy training tips I learned over the years.
Ever since we dropped Apache off at Guide Dog College to start his "formal" education Linus, Stetson, and I feel like we've been non-stop puppy sitters.  If only it was a paying gig we'd be rich!!!
We like volunteering our time to help out the community.  In the past we used to volunteer with several non-profit organizations including Habitat For Humanity, Working Wardrobes, and the Special Olympics.  More recently we decided we wanted to help dogs/puppies and began fostering homeless dogs and pups for one of our local animal rescues.
Puppy Sitter For Guide Dogs of America
That brings us to our current volunteer activity as guide dog puppy raisers.  We love being puppy raisers!  We get the opportunity to bring home future guide dog pups at around 7 weeks of age and train them in basic obedience, socialization, and good house manners until they are approximately 18 months old.
Yes, it is difficult to give them up after putting so much time, effort, and love into them, but it's all worth it knowing that our pups will move on to help a visually impaired person regain their independence.
That brings us to the past weeks assignment as guide dog puppy sitters:
#1 Tasha – A 4 Month Old Yellow Labrador Retriever
Last Tuesday we helped puppy sit little Tasha at our group meeting.  Tasha was a little bit restless and anxious at the meeting.  So we worked with Tasha so her handler could have a little break and discuss our puppy raiser manual with some of our other puppy raisers.  At 4 months old Tasha is very mouthy as her adult teeth are coming in.
PUPPY TRAINING TIP #1: If you have a mouthy puppy make sure you get lots of different textured dog toys including KONG's, pressed rawhides, plush toys, nylabones, etc.  When your pup bites down on your hand slowly remove your hand and replace with one of the toys and let them chew on the toy rather than your body part.
A second thing that you can try is using Bitter Apple Spray (affiliate link).  Spray a little bit on your hand and let your puppy put his mouth on your hand.  Most pups really don't like the taste of the Bitter Apple Spray and will eventually learn not to bite your hands.
#2 Treacle – A 13 Month Old Black Labrador Retriever
Next up was Treacle!  Treacle had a 2 day stay with us so she could work on mingling with other dogs (Stetson and Linus).  She did great and had a little bit of play time with her new buddy Linus.  We also took a nice long walk on the golf course, went to lunch together, and finally got to watch an awesome roller hockey game!  Go Team NDENSUM!
Treacle was very good with our dogs and played like a lady.  However, we have heard she sometimes isn't so lady-like and can be very rough during her play time. So we initially introduced her to Linus and Stetson on leash, but soon found out she did just as well interacting with the boys off leash.
PUPPY TRAINING TIP #2: Does your puppy play too rough with your older dog?  Try keeping your puppy on leash when he is interacting with your older dog that way you can better control any inappropriate behavior.
#3 Sable – A 15 Month Old German Shepherd Dog
Finally, the past 2 days we watched Sable.  There are very few German Shepherd Dogs in our guide dog program so we felt very lucky that we had the opportunity to watch Sable.  German Shepherds and Labrador Retrievers are very different breeds.  Lucky for us we had lots of experience with German Shepherds when we were fostering puppies.
Sable was a very good girl, but the only real problem we had was having her "get busy".  She refused to potty!  It took her nearly 24 hours before she agreed to make #1 and #2 while she was in our care.  It was very reminiscent of when we took Linus camping.  He would not potty in the dirt (he was used to going on the grass).  Again it took over 24 hours to finally get him to potty on the dirt.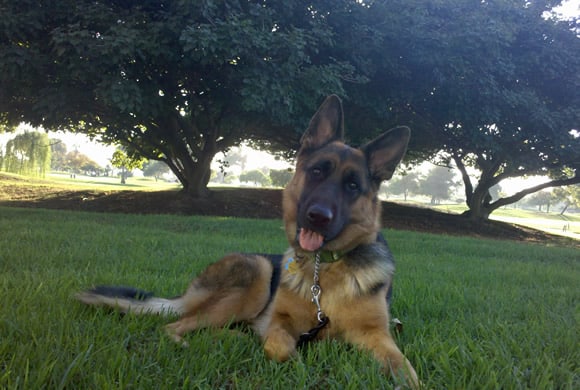 PUPPY TRAINING TIP #3: Make sure you train your puppy to potty on all different surfaces.  You never know when you'll want him to go potty somewhere other than the grass.  Guide dogs travel everywhere with their handlers and need to potty on command anytime, anywhere so we train our guide dog puppies to go on cement, grass, rocks, dirt, etc.
So those were our puppy sitting assignments for the week!  As you can see there was some mischief going on with the pups.  Did your dogs get into any mischief this week?  What lessons did you learn from their mischievous behavior?
Top Picks For Our Puppies
Check out more of our favorites on our New Puppy Checklist.