WARNING! Adorable German Shepherd Puppy Pile Ahead!
This post may contain affiliate links. We may earn money or products from the companies mentioned in this post.
We love puppies here at Puppy In Training and even better are puppy piles!  Years ago we fostered this litter of cute, adorable German Shepherd puppies.  We always say that they were German Shepherd mix pups, but 2 of the 7 looked like Labrador Retrievers…at the time we guessed that the litter of puppies had two different fathers.
Either way these little pups were super cute!  One of the things they loved to do was cuddle up together and form a little puppy pile.  It wasn't because they were cold (at least I don't think so).  As I recall that was one of the hottest summers we had seen in years (we're having a similar summer this year).  Nope, they were all just the best of buds I guess…
German Shepherd Puppy Pile!
Going clockwise starting from the little yellow pup on top that's Blondie, Cocoa, Sally, and Brisby. Missing from the puppy pile are Georgie, Boots, and the little runt: Princess Buttercup!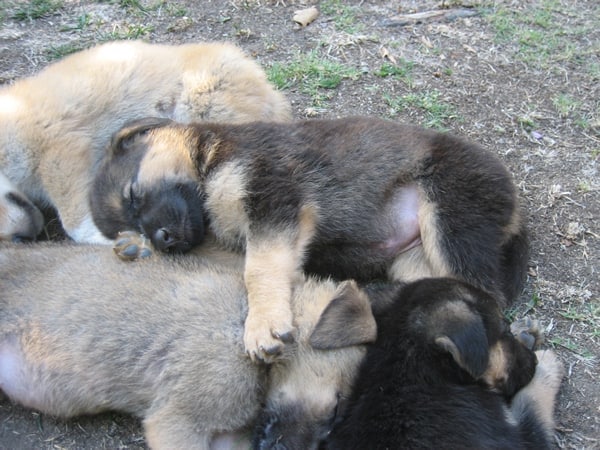 We rescued these seven puppies from the Riverside Animal Shelter and fostered them until they were old enough for adoption. At the time we were volunteer foster parents for the Cuddly Canines Rescue Organization. If you're interested in fostering and live near La Habra, CA visit the Cuddly Canines website for more information.
Why Do Puppies Sleep In A Pile?
I've read dozens of books about puppy training, puppies, and dogs in general.  So what's up with these puppy piles?  I'm sure you've all heard someone at one time or another say: "…dog's are pack animals" as a way to explain some kind of behavior.  Well guess what?  The puppy pile is probably a direct result of dogs being pack animals.  Here are a few thoughts on why we see these puppy piles:
Dog's are pack animals and as such want to be near each other thus forming puppy piles.
The puppy pile is a part of a dogs need to bond with each other.
The puppy pile is to keep the pups warm and help conserve heat.  As I mentioned it was a hot summer and I'm not so sure these little guys needed to pile up and conserve heat.
My black Labrador Retriever, Stetson gets to sleep in the bed and likes to sleep right up against my body at night.  It's nice during cold winters, but he does the same thing in the middle of the summer.  Stetson's behavior must be a continuation of his days with his litter mates and their puppy pile.  I guess now I'm a part of Stetson's new puppy pile.  I must say I do enjoy bonding with Stetson even if it's the middle of summer and I'm sweating all night in bed.  I guess humans (or at least I) are pack animals too 🙂
So what about you?  If you raise litters of puppies do your pups form puppy piles?  Do you (the human) form a puppy pile with your dog(s) at home?  We'd love to hear what you have to say.  Tell us about it in the comment section below.
Top Picks For Our Puppies
Check out more of our favorites on our New Puppy Checklist.