Guide Dog Puppy Evaluation – Dublin
This post may contain affiliate links. We may earn money or products from the companies mentioned in this post.
As many of you know Dublin recently went back to school in Sylmar for his six month Guide Dog Puppy Evaluation. We've been working hard on Dublin's puppy training and socialization for the past 4 months and we were hoping our hard work would show up on his evaluation report. Needless to say, I was pleasantly surprised when I looked over Dublin's eval. Here's a look at most of the things listed on his report:
Guide Dog Puppy Evaluation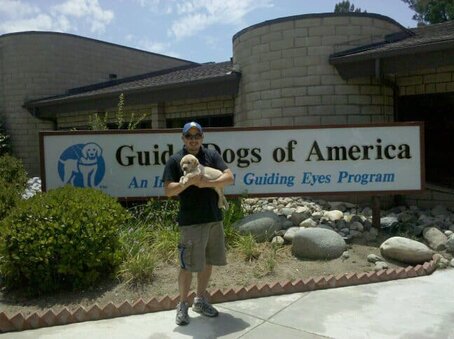 The first few things are basic:
Dog's Name: Dublin
Breed: YLAB
Sex: Male
Intact: Yes
Proper Tags (3): Yes
Dog's current age: 6 mos
Kennel Behavior:
In Run: Calm, Happy
Overall behavior: Well-behaved
Community Run: N/A
Basic Handling / Grooming: (ears, eyes, teeth, paws, tail): Excellent
Relieving on leash: on command
Evaluation Walk in Unfamiliar Area:
Location: Valencia
Response to people: friendly-interested
Other dogs: interested-walks by
Animals (birds, squirrels, etc.): ignored birds
Loud sounds: not bothered
Traffic: not bothered
New Handler: very responsive – eager to please
Other (stairs, kids, sniffing, etc.):

no

pulling, loose lead, some concern with people  walking up behind him, recovered quickly
OB response:
Name: Very Good
Sit: Excellent
Stay: Excellent
Down: Excellent
Come: Excellent
General Handling:
Energy Level: medium
Response to correction: responds well – remembers
Behavior in establishments: polite, well-behaved
Overall stress: did not seem stressed today
Comments / Recommendations:
Dublin is a pleasure to walk.  He walks nicely on a loose leash and is very responsive to handler.  Dublin has excellent manners and a great obedience foundation.  Overall, Dublin was not bothered by any situation he encountered.  However, he did become concerned when approached from behind by a woman talking on a cell phone.  He startled and became distracted bu recovered quickly after she passed by.  Continue to expose Dublin to new experiences including crowds.
Keep up the Great Work!
Recommend Re-evaluation: 3 months
My Thoughts On Dublin's Evaluation
Dublin does a lot of things very well and his puppy evaluation made me proud…I'm a happy parent 🙂  Here are a few things I though after reading this report:
I left a couple things out including Date, DOB, ID#, and Evaluator.  As I mentioned most of this stuff is very basic, but a few things to note are:  He is still intact – I guess that won't change until his next evaluation so he gets to keep his man parts for a little while longer.  Proper Tags – He has his Microchip Tag, GDA Tag, and a Personal Tag with my information I have not yet received his Irvine City Registration tag, but should have that soon.
Although it was his first stay at the GDA kennels his behavior report does not surprise me.  He's a happy go lucky dog and has always got along with other puppies from his group.  Also he's always done very well with his crate training.
We've been working on basic handling with Dublin including petting, manipulating and dressing him in dog costumes since we first brought him home.   We even put together a puppy training video showing Dublin and some of the other puppies in training wearing their Halloween dog costumes and explaining the purpose behind puppy dress-ups.
The part of Dublin's evaluation that did surprise me was his response to people and other dogs.  He generally ignores people unless they are coming up to say hello.  In that case he gets super excited for about 10-30 seconds and takes a little bit before he calms down.  Meet and greets with people is one area we've been working on nearly every day.  By the way, we had Baron for a few days and he is great with his meet and greets.  Also, if we get close to other dogs Dublin will pull and want to go play.  This is another area we're working on.
Finally, Dublin is great with most of his Puppy obedience training.  However, the past couple weeks he has regressed with his Name and the "Come" command.  We've gone back to working with him on a long line to increase his responsiveness.
3 Months Till Dublin's Next Puppy Eval
As I mentioned earlier there was no mention of…shhhh…neutering…so I assume Dublin gets to keep his man parts for another 3 months till his next puppy evaluation.  Until then we'll keep working on Dublin's puppy training.
I just looked back at  Stetson's Puppy Evaluation and guess what?  One thing I noted was that he was really bad with his sniffing (not allowed for a guide dog).  What are we doing with Stetson today?  K9 Nose Work Training!!!
Are you raising a puppy for Guide Dogs of America?  If so, we'd love to hear about your Guide Dog puppy evaluation.  Are you a puppy raiser for another organization?  If so, I'd love to hear about your programs puppy evaluation process.
Top Picks For Our Puppies
Check out more of our favorites on our New Puppy Checklist.