Puppy In Training TV – Ep20 – Guide Dog Graduation
This post may contain affiliate links. We may earn money or products from the companies mentioned in this post.
FInally!!! I'm finished with Dublin's Guide Dog Graduation Video…just scroll down…
Better late then never!  When it comes to video editing and doing voice over I'm definitely the tortoise and not the hare.  As everyone already know 1 week ago Dublin graduated with Liz from Guide Dog College and the celebration was glorious!  I was a proud papa and detailed the guide dog graduation experience right here on the blog.
Today I finally completed the guide dog graduation video.  It's also the season finale of Puppy In Training TV!  Don't worry folks this episode is much happier then the the puppy turn in day episode.  Rather than delay any longer lets get to Dublin's Graduation Day!
Guide Dog Graduation
Awesome! I'm so proud of Dublin! Congratulations to Liz and Dublin! Those 2 make an awesome guide dog team!
Guide Dog Graduation Transcription
PuppyInTraining.com Logo and Website Address
It's been 6 months since Dublin started his formal guide dog training and today he's graduating from Guide dog college! Welcome to this episode of Puppy In Training TV!
Guide Dog Puppy Training Starring DUBLIN
With Linus Aussie Shepherd Rescue
Also Colby The Human
And Stetson Career Changed Guide Dog
Guest Appearance Apache Puppy In Training
We found out a little over a week ago that Dublin is graduating. So I immediately started working on little package for Dublin's new partner, Liz.
I packed a bunch of puppy photos in a picture book, Dublin's 2 original blankets that you might remember from Dublin's pickup day, a DVD w/ all the Puppy In Training TV episodes, a toy for Dublin and a brand new blanket.
We arrived nice and early for an orientation before Dublin's graduation. We were so early the front door was still locked…I guess I was over excited!?
That's okay…we found the side gate open with a nice GDA welcome sign.
We had a short orientation and then had the opportunity to meet Dublin and his new partner for 30 minute before graduation. Here's the program for the day…and look there's Dublin's name!
And there's Liz and Dublin…who's now a working guide dog…YAY! I'm so proud! He's looking good in that harness! Nice! Dublin got some pretty awesome cheers from the audience.
A couple of Dublin's siblings, Deco and Daisy graduated and were on stage with us as well as Gentry from our Disneyland episode of Puppy In Training TV.
The graduation goes pretty fast as each graduate and puppy raiser get a chance to speak during the graduation.
In no time Liz stood up to speak and she said some wonderful things.
Then it was my turn and I tried to keep it short…
It was a pretty touching moment to see that Dublin remembered me when I said his name. Technically he should have stayed down…but I guess all that work we put in on teaching his "name" and "recall" showed at graduation.
And in no time the graduation was over and we headed off the stage.
We caught a glimpse of Dublin working with Liz as they walked out for some pictures. I must say he's looking mighty handsome in that harness.
We had the opportunity to take a few pictures with Liz and Dublin and then with liz, dubin, and her family. I was hoping the moment would never end.
I spoke with Liz while Dublin waiting patiently by her side and I knew that Dublin was going to a wonderful new home.
We had come full circle with Dublin. During our time we worked hard together and I was so proud of him.
Dublin's adventure with me had ended and I was happy to see him move on to his wonderful new partner and start the next leg in his journey as a working guide dog.
As we say goodbye I'd like to thank you for joining us on Dublin's journey to becoming a guide dog. I hope you enjoyed the Puppy IN training TV Series.
And as we hear news from Dublin we'll make sure to keep everyone updated on our blog, Facebook, and YouTube Channel so make sure you don't forget to subscribe.
If you're interested in becoming a guide dog puppy raiser then feel free to leave me a comment or visit the GDA website at www.guidedogsofamerica.org.
Thanks everyone and we'll see you soon!
My Final Thoughts On Dublin's Guide Dog Graduation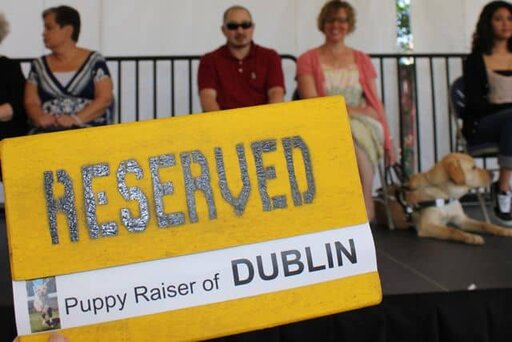 Don't worry guys it's not the end.  This really is only the beginning for Dublin.  He's reached his goal and is now a working guide dog.  Exactly what he was meant to be.  I can't say it enough, but I'm so proud of him and quite honored that I was given the opportunity to be his puppy raiser.
As I said in the video I hope you enjoyed Dublin's Puppy In Training TV Series and hopefully we can do it again if we decide to raise another puppy after Apache.
Please make sure you subscribe to our
I'm sure we'll continue to hear updates from Liz and Dublin and you definitely don't want to miss out on their adventures.
It's been nearly 2 years now since I picked up Dublin…quite a journey!  I want to hear some of your stories especially the stories about guide dog graduations.  Please tell us some of your stories in the comment section below.
Top Picks For Our Puppies
Check out more of our favorites on our New Puppy Checklist.