Bret Michaels Pets Rock…Our Next Great Dog Halloween Costume?
This post may contain affiliate links. We may earn money or products from the companies mentioned in this post.
You probably think I'm one of those crazy dog people (you're probably right) because it's only mid-July and I'm already thinking about dog halloween costumes.  If you're planning on dressing your dog in costume this Halloween then it's never too early to start searching or if you're a DIY person then making your own dog costume.
I'm not all that creative so when it comes to dog costumes I like to start by buying something in the store and then end with something at least somewhat original by taking out the scissors and needle and thread.  That's what we did with Dublin last year when we had a great monkey costume that was actually designed for a child, but with a few snips with the scissors it became a cool little dog halloween costume.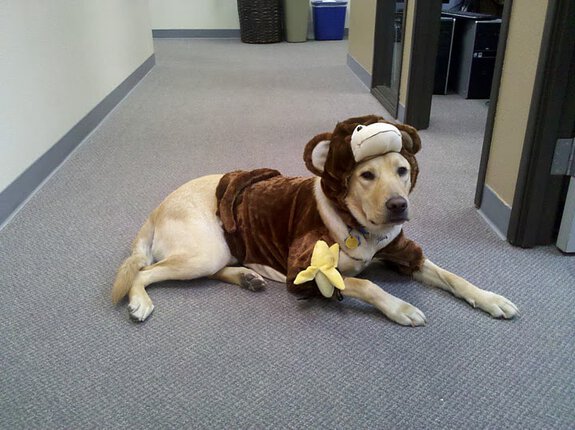 So why am I talking about Halloween in the middle of summer?  Well if you remember a few weeks back we attended the BlogPaws Pet Blogger and Social Media Conference.  Not only did we learn about blogging and social media we also came home with a pile of swag and amongst that pile were some great outfits from the PetSmart Bret Michaels Collection.
Bret Michaels Pets Rock Collection
"Every rose has it's thorn…Every night has it's dawn…and every cowboy sings a sad, sad song…"
The immortal words of Poison err was it Bill and Ted that said that?  No, it was BRET MICHAELS from POISON!  One of my favorite bands of the 80's and 90's!  I even went to the New Years Eve 1990 Poison Concert!   Another super cool band, Warrant opened for Poison on that night!  It was a great concert.  In fact I think I still have my classic Poison concert T-shirt which is now more than 22 years old!  I'm going to see if I can dig it up out of the closet.  By the way, I'm listening to Poison while I write this blog post 🙂
BlogPaws and PetSmart
It's our last day of the BlogPaws Conference and I'm lucky enough to be at the PetSmart luncheon where they unveil the Bret Michaels Pets Rock Collection.  Unfortunately, I was so overwhelmed I failed to take a picture of the table full of products (bad blogger!).  Oh well we were lucky enough to grab a few things for our dogs.  Unfortunately, most of the dog costumes were puppy sized or suitable for smaller dogs not a 90 lb Golden Retriever like Apache.
I pretty much have my dogs test all the products under review, but what was I to do with the Bret Michaels Pets Rock Collection.  I only have large dogs and I do not currently have a puppy.  So I went to friends and family and decided to do some guest reviews with Yuki the Yorkshire Terrier and Ralphie the Cairn Terrier (we think)…he's a rescue pup.
Bret Michaels Hoodie
Our first model is Yuki wearing the Bret Michaels Pets Rock Tatoo Hoodie.  As you can see Yuki is a Yorkshire Terrier weighing in at about 7 pounds.  Yuki is wearing the small hoodie and even for her it was a little snug.  She might have fit into the medium sized one a little bit better.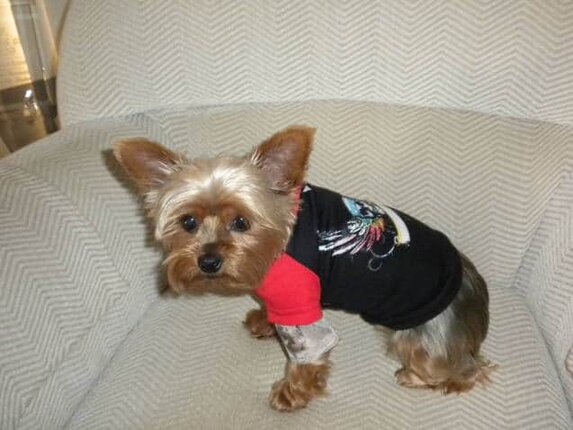 Ralphie is about 15 pound Cairn Terrier and he got to try on the Medium sized Bret Michaels Pets Rock Tatoo Hoodie.
Ralphie didn't mind wearing his new hoodie, but it's a little warm out to be playing dress up so we'll probably reserve these new dog costumes for Halloween.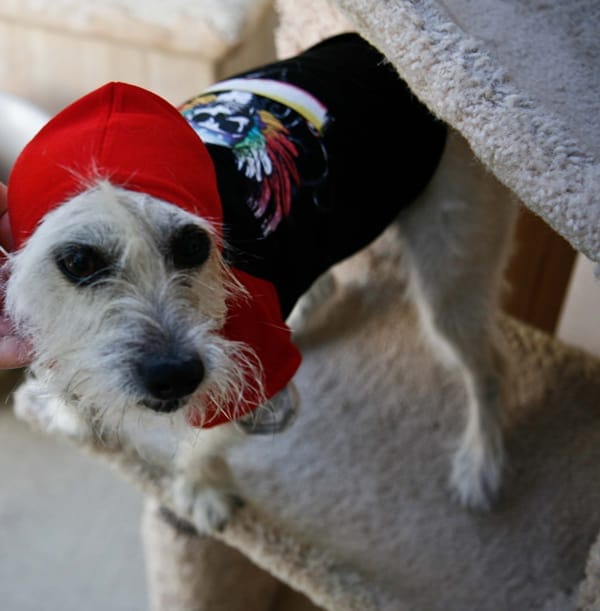 It was a little bit difficult putting on the tattoo hoodie.  Maybe it was a little bit too small, but I think the fact that it was an actual pull over hoodie made it more difficult then the pleather jacket we reviewed which used velcro straps.  Once the hoodie was on Ralphie was totally comfortable running around and playing although he wasn't really too fond of wearing the hood (although he looks cute with the little hood on).
I guess you can say the Bret Michaels Collection runs a bit small.  I don't think I'm going to be getting my 90 pound Golden Retriever into these outfits anytime soon.  Maybe his left paw 🙂
Bret Michaels Pleather Jacket
Unfortunately, Yuki didn't get to model a pleather jacket, but then again I think the pleather jackets suit the manly dogs (if you can call a Cairn Terrier manly).  The Bret Michaels Pets Rock Collection includes more feminine outfits like dresses and bows too, but since we're manly fold in my household I didn't grab any dresses or bows for my boys.  Today we're going to be tough and cruise our leather…I mean pleather vest!
The pleather vest was pretty cool.  Putting it on was very similar to our guide dog jackets.  A couple velcro straps and BAM! Tuff Guy Puppy!  I'm sure it was a little warm, but Ralphie didn't seem to mind wearing his new pleather jacket at all.
The Bret Michaels Pets Rock Collection Runs A Little Small
So now that you've seen the pups wearing the duds you have an idea of what the Bret Michaels Pets Rock Collection is all about.  If there's one thing to take away that is these doggy outfits run a little bit small so if you plan on ordering something I suggest you make sure you purchase the proper size.
As I said I don't have a small dog at the house, but guess what?  Every year or so I bring home a new puppy from Guide Dogs of America.  So I'm sure you'll be seeing these cool dog costumes on my next puppy in training.
Unfortunately, we didn't get a chance to bring home every Bret Michaels product that was on display.  However, you can check out the entire collection at your local PetSmart or just take a quick peek at the PetSmart Online Store.
Did you grow up in the 80's and idolize Bret Michaels and Poison like me?  If so, you may want to check out the Bret Michaels Pets Rock Collection to see if they have the perfect outfit or doggy product for your dog.  It just may be the exact dog halloween costume you were looking for this year.
Top Picks For Our Puppies
Check out more of our favorites on our New Puppy Checklist.