Brindle and Black and Tan Labrador Retrievers
This post may contain affiliate links. We may earn money or products from the companies mentioned in this post.
We've posted several times about Purebred Brindle and Black and Tan Labrador Retrievers. Just the other day I received an email from one of our readers with some great pictures of his two Brindle Labs.
Here are the earlier posts including information about the Purebred Brindle and Black and Tan Labrador Retrievers:
Black And Tan Labrador Retrievers
Here are the pictures I received:
Brindle Labrador Retrievers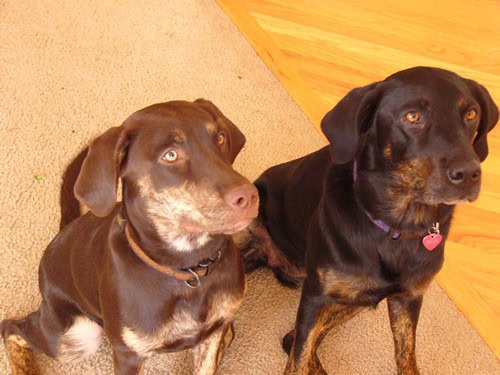 Here's what Bill had to say about his two dogs:
Here are a few more shots of Maia and Tora, our brindled labs. As you can see, Tora has grown quite a bit. Also attached are hunting photos, one of both dogs working an area of red grass and sage' and two of Tora on a point.

Tora has turned out to be a natural pointer. One of her great-grandfathers was a famous pointing lab, Sir Hershey of Sussex. So is Maia's, but she won't stay put when she gets close to a bird. Tora, when by herself, will hold. Stopping and pointing is natural; however, I still give her strong commands to stay to reinforce and maintain this skill. Sorry I didn't get the bird in the photo. It ended up being a Hun, a Hungarian partridge. We were hunting in Strasburg, CO.
Bill: Thanks for the great pictures of Maia and Tora! We hope to see and hear more about your two Brindled Labrador Retrievers in the near future.
Top Picks For Our Puppies
Check out more of our favorites on our New Puppy Checklist.