Crate Train Your Puppy In 5 Easy Steps
This post may contain affiliate links. We may earn money or products from the companies mentioned in this post.
Throughout my life I've learned how to potty train a puppy using various methods and have found the easiest way to potty train a dog or puppy is through crate training. As a Guide Dogs of America puppy raiser we are required to crate train our puppies. Lucky for me I successfully crated trained Linus 2 years before I received Stetson from Guide Dogs of America.
Many people have advised me that every dog is different when it comes to crate training. Some dogs will take to the crate very easily while others are a struggle. Unfortunately for me both Linus and Stetson were a struggle when it came to crate training. Just remember be consistent and persistent.
What Is A Crate?
A crate is a wire or molded plastic kennel that simulates a nest or den environment. A crate can become a puppy's safe place, not to mention a house saver. When properly used, the crate becomes a security blanket, a place where the puppy can retreat to escape the household confusion and to feel secure. Never use the crate as a form of punishment! The dog crate should offer a positive, secure environment, a calming zone.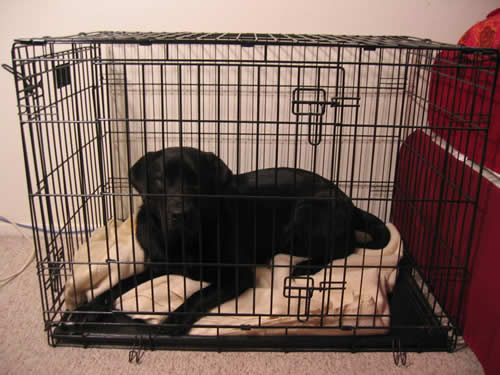 The crate can be effective in house-training. Confined to a crate, an unattended puppy cannot destroy or soil anything. Do not crate the puppy during the day for more than 3 hours (this is recommended when the puppy is very young…as he gets older he will be able to tolerate more time in his crate during the day).
Wire Vs. Molded Plastic
I've used both types of crates and believe that both work very well for crate training. I prefer the wire crates vs. the molded plastic mainly for a few reasons.
Wire crates can fold up flat for easy transportation.
Wire crates have better air circulation.
The wire crate I purchased came with a divider. You can use the divider to make the crate smaller during the early puppy stages.
The wire crate I currently use is called Midwest Life Stages Fold & Carry Wire Mesh Dog Crate – 24″L
. This is a very versatile crate and has worked crate for both Stetson and Linus.
How to Crate Train Your Puppy
Start crate training your puppy on its first night.
Place the crate in your bedroom where the puppy can still see and hear what is going on.
Put a blanket or towels in the crate for bedding. A pup will rarely soil the crate, however, if he does, try removing the bedding.
A crate should not be too big, but large enough for the puppy to stand, stretch and turn around.
When placing the puppy in the crate, use word "kennel" or "kennel up".
If he should happen to fall asleep somewhere else, pick him up and place him inside and quietly shut the door.
Do not hesitate to periodically use the crate, even while you are home. You may feed the puppy in his crate and give him some favorite toys, to keep the experience positive.
My Recommendations Through Experiences With My Dogs
A few other points I learned with my own dogs.
Consistency – Just as I always preach be consistent. Linus and Stetson cried and whined the first few weeks of crate training. I rarely got more than a few consecutive hours of sleep. After about 4 weeks Stetson stopped crying, whining, and howling and would walk into his crate when I gave the "kennel up" command. Linus was not as bad when sleeping in the bedroom, but when I'd leave him alone he'd bark non-stop hours on end. It took him a couple weeks to get used to his crate. Stick to it and BE CONSISTENT.
Talk to your dog – Linus was fine in his crate when I was in the room, but Stetson whined even if I was in the bed right next to him. I used two things with Stetson. First to get him to stop whining I'd say "SHHH". Second, when he stopped whining I'd give him praise (as long as he remained quiet). This was my ritual to get him to sleep.
Remove bedding (sometimes) – Stetson liked chewing on his bedding when I was away. If your dog does the same then be sure and remove the bedding so he does not choke on it.
Remove his collar – I recommend you remove your dogs collar (regular and training). You dogs collar can get caught on the crate and he could get choked.
Crate Size – As mentioned in step 3 make sure your crate is not too big. If the crate is too big your puppy may potty on one side of the crate while he sleeps on the other side.
One final hint that I learned when Stetson was staying with a puppy sitter. Be sure not to collapse your wire crate and lay it flat on the ground. Stetson's crate was flat on the ground when he heard someone at the front door. He ran to greet them and tried to run over the top of the collapsed wire crate. Unfortunately, one of Stetson's claws got caught in the crate and tore part of the quick in his paw. It wasn't too bad, but we still took Stetson to the vet to clean up his paw. Below is a picture of Linus and Stetson with his injured paw after his crate accident.
Parts of this article are taken from my Guide Dogs of America Puppy Manual. For more information on Guide Dogs visit the Guide Dogs of America website.
Have you crate trained your dog? Have you had any problems with crate training? Let me know your thoughts in the comments area.
Crate training puppies is not always an easy step-by-step process.  Check out this link on 14 tips that might help you crate train your puppy: Crate training puppies.
Technorati Profile
Top Picks For Our Puppies
Check out more of our favorites on our New Puppy Checklist.