Guide Dog Obedience Training
This post may contain affiliate links. We may earn money or products from the companies mentioned in this post.
Today (actually this past Saturday) we went to Guide Dog Obedience Training at the Guide Dogs of America (GDA) campus in Sylmar, California. GDA offers guide dog obedience training classes specifically for our puppies in training. These classes help us and our puppy stay on track through the first year of our puppy's development.  GDA classes are age-specific and held once a month.  Here's the current schedule:
9:00 – 10:00am – 12 months and over
10:30 – 11:30am – 5 months – 12 months
12:00 – 1:00pm – 7 weeks – 5 months
1:30 – 2:30pm – Breeder Stock Only
Sorry we didn't get any puppy training videos with Dublin at GDA Obedience.
Guide Dog Obedience Training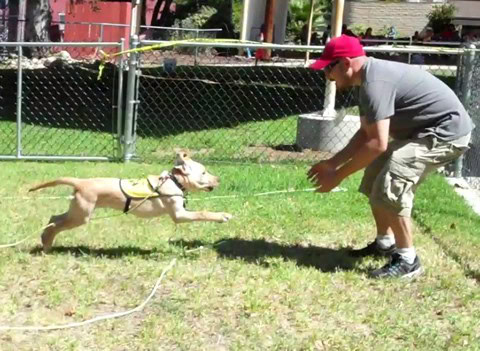 Today at GDA Puppy Obedience training there were three obedience stations.
STATION 1: Recall under blindfold while your puppy is playing.  We took Dublin in to an enclosed play area, I put on a blindfold and had three chances to get him to come to me by calling his name. After calling his name the first time I could hear him sprinting back and forth with puppy zoomie energy (seemed hopeless for us).  The second time I called "Dublin, Come"…nothing.  The third time I called his name I happened to stick my arm out and catch him as he was zooming by…does that count??? Nope! –FAIL! 🙁
STATION 2: Recall on a long line with distractions.  We lined up four puppies on long lines, put them in a sit-stay, and walked to the end of the lines. We called each puppy individually. If you didn't call your puppy he was to remain in a sit-stay. He wasn't perfect, but Dublin held a sit-stay twice when all the other dogs broke their sit-stay. Good job Dublin! –PASS! 🙂
STATION 3: Feed your puppy with a blindfold. Four of us stood three feet from a table that had dog bowls and kibble. We put our puppies in a sit-stay, put on our blind folds, walked to the table grabbed a bowl a handful of kibble, and our pups were to remain in a sit-stay until we released them. Dublin did perfect w/ me, but then we traded dogs and I could hear his new handler struggling a little to keep him in a sit-stay. –SEMI-PASS? 😐
What Dublin Learned In Puppy Training
This was Dublin's first class in the 5-12 month puppy age bracket and I thought he did excellent.  GDA Dog Obedience Training also gave Dublin and I an idea about some of the things we need to work on.
At Station 1 we learned that we need to work on recalls when Dublin is playing in new areas.  Dublin is excellent with his recall when their are no distractions in our house and at my office at work.  However, we have not practiced in new areas, with new smells, and toy distractions.
At Station 2 we learned that recalls on a long lines are much different when there are puppy distractions.  Once one puppy starts running the others often follow.  This is another area we need to work on.
At Station 3 we learned that it's important for Dublin to follow commands from others.  This station showed us that not only do we need to work with Dublin and his training, but it's also important to have others work with Dublin and his puppy training as well.
Guide Dog Obedience Training at GDA was a great experience for both Dublin and I.  We learned a lot and it gives us a chance to work on some of our short comings.  We also had the opportunity to see some of Dublin's siblings and learn how they are progressing.  Overall it was a great day and we hope to attend the next puppy obedience training next month.
If you want to see the schedule for upcoming GDA Obedience Classes then visit the Puppy Raising Events page on the GDA website and scroll to the bottom of the page.
How about you?  Have you ever attended Guide Dog Obedience Training at Guide Dogs of America in Sylmar, California?  If you have we'd love to hear your thoughts.
Top Picks For Our Puppies
Check out more of our favorites on our New Puppy Checklist.