Make A Commitment To Your Dog
This post may contain affiliate links. We may earn money or products from the companies mentioned in this post.
I was just thinking about the many abandoned dogs and cats. The homeless animals living in the shelters and streets. It made me think of this video I posted a while back on dog abandonment.
Before you decide to pick up that adorable kitten or cute cuddly puppy remember that you need to give that pet love and attention for it's lifetime. If you're getting a cat or dog this can easily be a 10+ year commitment (with my dogs I hope it's much, much longer).  Make sure you think about that…"Where will I be in the next 10 years?"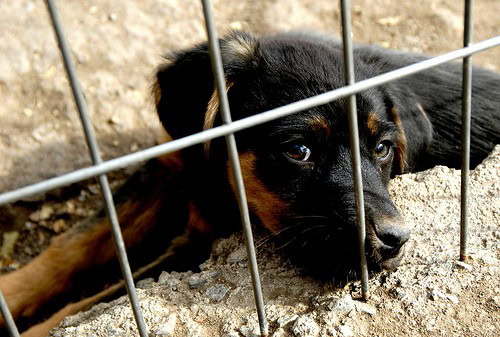 Photo by Aplomb
Give Your Dog Lots Of Love And Attention
We always had a family dog growing up.  Our dogs were outdoor dogs, but they were still a major part of the family.  As kids we tried to sneak our dogs into the house when my mom and dad weren't looking.
Throughout my life I always wanted to have an indoor dog that could bond more closely with me and get showered with love and attention.  Five years ago I did just that when I brought Linus home from the Carson Animal Shelter  I wanted my dog to be an integral part of the family, not just a possession.  I made sure I took Linus to training including puppy kindergarten and three basic obedience classes to date.
When you take your dog to training class, work on his basic obedience, behavioral issues, and treat him like a member of your family you form a special bond.  Many dogs are turned over to shelters because of behavior problems that are manageable and could have been prevented with proper training.  Today I could not fathom ever abandoning my dogs or turning them into the local shelter.  They are family members.
The Importance Of Dog Training
I see many people falling in love with puppies because they are adorable, cute, and cuddly.  However, I also see them fall out of love with these same puppies as they grow up.  Why do so many people fall out of love with their puppies?  It's my thought that by the time their puppies enter adolescence and adulthood they do not receive proper training and become unmanageable without basic obedience and also may manifest specific behavioral issues without early and ongoing training.
I think that dog training can be the simple fix to this problem.  Dog training can sometimes be as simple as getting the latest dog training book, DVD, or online training resource and applying the techniques to your dog on a consistent basis.  I'm also a major advocate of group dog training and believe that the socialization of your puppy is invaluable for teaching him about the world outside the home.  Private in house training is another great option for any behavioral issues you may be encountering and also gives a trainer the chance to see how your dog behaves at home.
I'm not too sure what today's rant was all about, but I guess I just had some things I felt like expressing today.  After reading through my thoughts I guess the moral of today's story is:
First think about the commitment your making when you get a dog and
Second if you do get a dog make sure you give him love, attention, and training.
What do you think?  How important is dog training for you and your dog?
Top Picks For Our Puppies
Check out more of our favorites on our New Puppy Checklist.