Contech EatBetter Dog Bowl Review
This post may contain affiliate links. We may earn money or products from the companies mentioned in this post.
If you've been following along the website then you already know Tuesday is Dog Bowl Review day.   Today we're reviewing the Contech EatBetter Dog Bowl
.  We've had these dog food bowls for quite a while now and unfortunately I haven't been too quick about getting the reviews to my site.  I finally have a collection of bowls that will help your dogs eat a little bit slower (if that's a problem for you and your dog).
I've had two speed eating dogs in my house over the past year and guess what breed?  If you said Labrador Retriever then you're exactly right.  Stetson is a black Labrador Retriever and Derby is a yellow Labrador Retriever.  Both dogs eat like the next piece of kibble is their last.
Contech EatBetter Dog Bowl Review
Today we're reviewing the Contech EatBetter Dog Bowl.  Here are the specifications on the bowl:
Product: Contech EatBetter Dog Bowl
List Price: $24.99
Product Features:

Improves absorption of nutrients through better digestion
Food grade, dishwasher safe plastic
Encourages slower, healthier eating
Reduces vomiting and bloating
Sturdy, non-skid design.
Product Description:
The Eat Better pet bowl encourages dogs to eat at a slower, healthier rate. Many dogs instinctively eat too fast; a habit that can contribute to digestive problems such as indigestion, vomiting and even GDV (gastric dilatation-volvulus) or bloat a life-threatening condition requiring emergency treatment. To help promote healthier eating habits, the Eat Better bowl incorporates a raised wishbone-shaped partition that provides easy access to food, but prevents dogs from eating too quickly. The bowl's innovative design encourages dogs to eat slower, take smaller mouthfuls, chew more, and avoid overeating.
Product Image: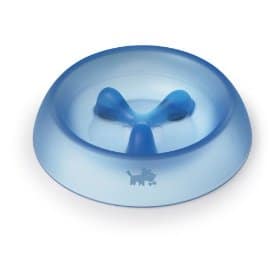 Puppy In Training Product Review
Product Video Review
Derby and I put a little video together to show everyone the Contech EatBetter Dog Bowl in action.  Does the Wishbone shaped obstacle in the EatBetter bowl actually slow down a speedy eater like Derby?  Check out the video:
My Thoughts On The Contech EatBetter Bowl

As you can see from the video it took a mere 4.2 seconds longer for Derby to finish his food in the Contech EatBetter Dog Bowl compared to a standard stainless steel bowl.  I guess every little bit counts and the EatBetter did accomplish it's goal of slowing down Derby's speed eating.
One thing I did find interesting about this product was the quality of construction.  This bowl far and away was the most sturdy and well constructed of the plastic dog bowls I reviewed.  We tested the medium size bowl which allows for 2 cups of food.  We tested with 1 1/2 cups, but feel that filling the bowl to the top allowed Derby to eat the food on top (not blocked by the wishbone) much faster then the food near the bottom.  The medium sized bowl might be best suited for 1 cup of food.
We also noticed that a large bowl and a small bowl are now available.  The large bowl can hold up to 6 cups and the small bowl holds 1 cup.  My Labs are probably better suited to eat out of the large Contech EatBetter Dog Bowl.
The plastic this bowl is made out of is much different then the plastic in the other bowls.  The imprint on the back of the bowl reads "Material K-resin".  I'm not too sure what kind of material that is.  In the past I've mentioned that our vet has told us that plastic bowls can cause canine acne (as it did with Stetson).  However, this bowl is a different kind of plastic and may not harbor bacteria like other plastic bowls we tested…I can't tell you for sure as this bowl was not optimal for my dogs (because of it's small size) and didn't get extensive use.  The Contech (affiliate link)website says the bowl:
…is made of high-quality, food grade, dishwasher safe plastic that does not contain Bisphenol-A
Another difference from other bowls in this category (fast eaters) is that this bowl has a non-skid design.  The other bowls seem to slide around as part of their strategy to slow down fast eaters.  Three small pads are located on the bottom of the bowl to keep it from sliding around on the floor.
Lets review the Pro and Cons of this Dog Bowl:
Pros:
Great High Quality Design made out of a very sturdy plastic.  Much nice then the other bowls I tested
Wishbone design slowed down eating however just slightly (4.2 seconds in the video) for my dogs
Cons:
The Contech EatBetter Dog Bowl did slow down Derby's eating it was only by a small amount 4.2 seconds.  Would this make a difference for bloat, vomiting, digestive problems..etc.?  Probably not.
For us the size of the bowl was a concern.  However, that has been remedied as there are several sizes now available…be sure to purchase the proper size for your dog.
The non-skid design – after witnessing some of the other dog bowls I believe the sliding may slow down eating.  As you can see in the video the bowl does move, but not nearly as much as some of the other bowls we tested.
Overall we very much liked the design of this dog bowl.  It was by far the highest quality out of all the plastic bowls we tested.  Our main issue is after we tested the bowl was that it only slowed our test subject, Derby's eating frenzy by 4.2 seconds.  As we mentioned in our review this may be a result of the bowl being to small for 1 1/2 cups of food (Contech advertises that it can accomodate 2 cups of food).
In the future we may retest the Contech EatBetter Dog Bowl with a smaller dog and a smaller amount of food.
We're reviewing Dog Bowls every Tuesday.  If you want to see an overview of some of the dog bowls then visit the Dog Bowl Reviews article.
Have any of you used the Contech EatBetter Dog Bowl?  Do you have a product, method, or idea for slowing down dogs that eat too fast? Let us know in the comments section.
Top Picks For Our Puppies
Check out more of our favorites on our New Puppy Checklist.