Lessons From Marley & Me Part 1 – The Perfect Dog and Buying Puppies
This post may contain affiliate links. We may earn money or products from the companies mentioned in this post.
Today I began reading Marley & Me: Life and Love with the World's Worst Dog
and wanted to relate some of my experiences with puppies and dogs as I read through the book. The book starts off with the perfect dog and buying puppies.
The Perfect Dog
Many of us have grown up with what we percieved as the perfect dog. In the preface John Grogan covers his perfect puppy/dog named Saint Shaun. Saint Shaun was very easily trained, never did anything wrong, the envy of all his friends, and to top it all of would back into the bushes to do his business (it all sounds a little over the top to me).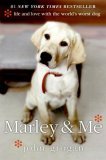 What do I think of the preface and the perfect dog? Saint Shaun may very well have been perfect, but as kids I don't think we're always exposed to all the responsibilities of owning a dog. If we forget something such as picking up after our dogs, brushing, washing, or grooming the dog our parents will often cover for us. Often times as kids, we don't even realize all the responsibilities involved with dogs. I guess what I'm trying to say is there is a big difference between the family pet we owned as kids and the puppy/dog we buy/own as an adult. The full responsibility of owning a dog is something we should consider with great care. Of course not everyone thoroughly thinks through dog ownership and this can be seen by the ever increasing number of dogs and puppies that are euthanized at the shelters.
Buying Puppies
In Marley & Me Grogan's wife researches the newspaper classifieds to find the perfect dog. Is this the best way to buy a dog? I don't claim to know the best way to get the perfect dog, but I have talked to many people and currently own two dogs of my own. Check out Dedicated to my dog Linus to see some of my writing on dog adoption. I was considering a pure bred golden retriever or labrador retriever before I picked up Linus from the shelter. It was recommended to me that I attend dog shows to find a reputable breeder and not to find a breeder by looking through the classifieds. I was told that a good reputable breeder has no need to advertise their puppies.
However, I did look at classified ads and did visit some of the puppies in the ads. The second thing I was told about buying a dog was that before you buy a pure bred find out what genetic defects the breed may have and make sure the parents are certified. By the way, it is very difficult not to take home all the puppies when you see, touch, and play with the litter. I highly recommend using Grogan's strategy when looking at litters, but unlike Grogan stick to it!
From Marley & Me:
The deal I had struck with Jenny when I agreed to come here was that we would check the pups out, ask some questions, and keep an open mind as to whether we were ready to bring home a dog 'This is the first ad we're answering' I had said. 'Let's not make any snap decisions.' But thirty seconds into it, I could see I had already lost the battle. There was no question that before the night was through one of these puppies would be ours.
I'm going to reiterate…please don't give in and stick to the plan!
Meet the Parents
As you can see Grogan and his wife choose one of the puppies from the first litter they visit. It is a backyard breeder who has AKC certified puppies. However, Grogan does not mention whether the puppies parents have certified hips, elbows, and eyes which is very important when buying a pure-bred labrador retriever (yellow lab was the same dog I was researching before I found Linus).
Parents are a good indicator of how the puppies will behave. Grogan and his wife meet the mother just as they arrive at the house and describe her as "just what we pictured a lab would be -sweet natured, affectionate, calm, and breathtakingly beautiful." The chapter ends with meeting the father…Grogans description: "…very big yellow blur…as it galloped past…soaking wet and covered up to its belly in mud and burrs…tongue hung out wildly to one side and froth flew of its jowls…odd slightly crazed yet somehow joyous gaze in his eyes…" Not exactly the perfect dog and a foreshadowing of things to come.
Let me know what you think. Have you read Marley & Me? Are you interested in buying puppies?
Top Picks For Our Puppies
Check out more of our favorites on our New Puppy Checklist.