NHL Rookie Sensation, Max Domi And His Diabetic Alert Dog
This post may contain affiliate links. We may earn money or products from the companies mentioned in this post.
Check out the above video! It encapsulates two of my passions in life: 1. Service Dogs 2. Hockey.
Arizona Coyotes, Max Domi has taken the NHL by storm leading all rookies with 8 goals in his first 16 games thats a 41 goal pace folks, which if he can continue at that rate would put him in the upper tier of NHL goal scorers (last season only 3 players scored over 41 goals). If you're a hockey fan and the name Domi sounds familiar it might be because Max's father is famed Toronto Maple Leaf, Tie Domi.
Besides his goal scoring exploits Max Domi is different from other NHL rookies in two significant ways:
Domi lives with type 1 diabetes, a chronic condition where the pancreas produces little or no insulin.
Domi has a two year old Diabetic Alert Service Dog named Orion to let him know when his blood sugar level low.
Domi was diagnosed with type 1 diabetes when he was 12 years old and the first question he asked was "Can I still play hockey?" The doctor said "Of course." However, Domi's lifestyle is a little different and among other things he has to check his blood 15 to 20 times a day.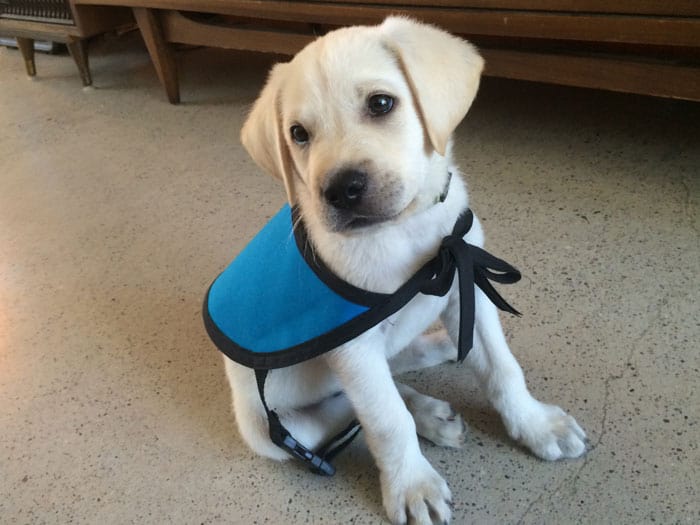 From the above video:
If you're in a game for me I'll test my blood two hours before the game, an hour before the game, right before I go on for warm up, after warm up, halfway through the first period, after the first period, halfway through the second period, after the second period, halfway through the third period, after the third period, then after the game, then two hours after the game. It's just that extra work that goes into it, but you can definitely live with and achieve any dreams you have.
Diabetic Alert Dog, Orion's job starts after games through the night. After games late at night Domi can run into problems with blood sugar dipping down. If Orion detects Domi's blood sugar dropping he will jump on him or paw his face.
I must say what an extraordinary hockey player and an extraordinary dog!  Great job Max Domi on the start to your NHL career! Great job Orion keeping Max safe!
"He (Orion) made me a better person and a better hockey player."
Top Picks For Our Puppies
Check out more of our favorites on our New Puppy Checklist.