Pet Bloggers Journey II – The Adventure Continues
This post may contain affiliate links. We may earn money or products from the companies mentioned in this post.
Life moves pretty fast. If you don't stop and look around once in a while, you could miss it.

Ferris Bueller
It's that time of year. Time to reflect on the past year and look forward to the future. It's time for the Pet Bloggers Journey!
I just finished reading my Pet Bloggers Journey 2020 post and all I have to say is…WOW! Things have really changed in one year.
Traditions I maintained for my entire 48 year life were broken this year due to the pandemic.
The good news is we are continuing our tradition of publishing our Pet Bloggers Journey (formerly Pet Blogger Challenge) blog post to kick off the new year.
I'm going to keep this years PBJ post short and simple. If you're interested check out this little history lesson behind the Pet Bloggers Journey.
Pet Bloggers Journey II
All pet bloggers are invited to participate in the Pet Bloggers Journey! We'll celebrate 2020 and formulate our plans for the coming year. Mark your calendars and tell your friends … the Pet Bloggers Journey is coming January 10th-16th, 2021!
Last year's PBJ was awesome, with 26 bloggers sharing ideas, building relationships, and supporting each other's goals. No doubt this year's event will be just as great, so don't miss it!
Participating in the Pet Bloggers Journey is easy
Publish a post on your blog between January 10th and January 16th, 2021 with answers to the questions below.
I'll publish my answers on PuppyInTraining.com on January 10th, 2021 and include a Participants Section that I will update with new participants daily until I close submissions on January 16th, 2021 11:59pm PST.
After publishing your post, visit my post and add your link (plus witty reply) to the Comment Section so I can update the Participants Section in the main body of my post.
Finally, make sure you visit other blogs on the Pet Bloggers Journey and leave comments sharing your wisdom and encouragement.
Beginning January 10th, 2021, join us in answering the following questions about your blog:
When did you begin your blog and what do you currently write about on your blog?
Name one thing about your blog, or one blogging goal that you accomplished during 2020, that made you most proud.
Which of your 2020 posts was most popular with your audience? Why do you think it does so well?
What was the biggest blogging challenge you faced in 2020, and how did you tackle it?
Tell us one thing you learned in 2020 that can help us all become better bloggers.
What are your top three goals for 2021?
In the perfect world, where do you see yourself and your blog 1 year from now?
If you had a $1,000 to spend on your blog how would you spend it?
What is one skill you'd like to learn or improve in 2021?
If you could ask the pet blogging community for help with one challenge you're having with your blog, what would it be?
This is your time to look back on your accomplishments over the past year and look forward to the future.
The 2021 Pet Bloggers Journey is only a few weeks away!
If you need help or have any questions please feel free to reach out to me or leave a comment below and I'll get back to you as soon as possible.
Tell Your Blogging Friends
The Pet Bloggers Journey begins 01/10/2021
We need your help in spreading the word to all your pet blogging pals. The more participants we have the more we'll learn from each other.
So be sure and spread the word by sharing a link, blog post, pin or social media update.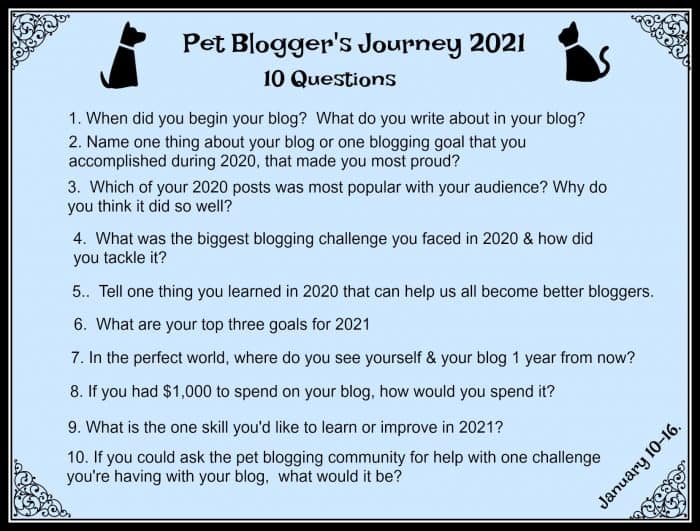 Top Picks For Our Puppies
Check out more of our favorites on our New Puppy Checklist.