Guide Dog Puppy Raising 201
This post may contain affiliate links. We may earn money or products from the companies mentioned in this post.
Hmmm…so is this really Advanced Guide Dog Puppy Raising?  Well…no not really, but we did learn a few new and important things about raising our guide dog pups from our good friends Tony and Sam.
Last week Tony and his guide dog, Sam visited our monthly Orange County Guide Dogs of America monthly meeting.  We were lucky to hear all about Tony's life with Sam and how much Sam has changed his life.  Stories ranged from comical to happy to sad to inspirational.
As a guide dog puppy raiser it's great to hear how much a working guide dog changes a blind or visually impaired persons life.  It really does help them regain their independence and Tony and Sam are just one of the reasons why we (puppy raisers) continue to raise puppies for our great organizations.
Puppy Raising And Training Tips From Tony And Sam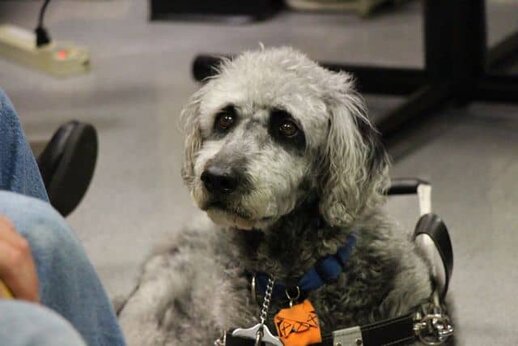 So what's up with the title?  Why is this Guide Dog Puppy Raising 201?  Quite honestly as I mentioned earlier it really isn't all that advanced and the 2 tips Tony shared with us are really quite logical.  The reason why I say it's advanced is because it's the first time I've heard these kind of tips from an actual guide dog team.
Puppy Training Tip #1
If you've been following the blog for a while then you probably remember me talking about puppy names and how we name our guide dog pups.  If not, take a look back at our post on puppy names.  There are some basic rules to naming our pups, but at our meeting Tony told us his story about Sam's name and gave us a good reason why and how we should name our pups.
Now that you've had the chance to refresh by reading our Puppy Names blog post (I'm sure you read the related links and comments as well) then you know that it was recommended to us by the GDA puppy department as well as other puppy raisers that we try to name our dogs with 1 or 2 syllable names and occasionally a 3 syllable name is allowed.
Back to Tony's story about Sam.  Sam's original name was Sylvio…A 3 syllable name…Tony tried to use the name Sylvio to issue commands, but he said it just didn't work out and after about 1 day he told his trainer that his name is "Sam".
Once your puppy in training goes to his new handler they have the right to change the puppy's name.  Tony said a 1 syllable name is preferred by most guide dog users and urged us to strongly consider 1 syllable names when naming our puppies.  A 1 syllable name just makes it easier especially for guide dog users who have to use their guide dog name more frequently then the average pet.
So far, I've failed at the 1 syllable puppy names, but I have kept it at 2 syllables for the most part:
Stetson – 2 syllables
Derby – 2 syllables
Dublin – 2 syllables
Apache – 3 syllables – I wasn't involved when naming Mr. Apache, but I like the name 🙂  By the way, Apache is on the verge of completing his Team Training!
Even if you are not a puppy raiser it's important to think about your puppy's name.  Is your pup's name easy to say when you're using it with commands?  If not, maybe it's a good idea to consider a nice 1 or 2 syllable name.  After all, you're just making your life more difficult if you choose  a 4 syllable name like "Serenity" (a name I really like) and try to issue obedience commands.
Puppy Training Tip #2
While I had heard about the importance of keeping puppy names short this was the first time I had heard anything about puppy training tip #2.
We do a few things differently when we potty train our guide dog puppies.
We teach our puppies to potty on command by saying "get busy"
We pet our puppies while they potty.
We teach them to potty on many different surfaces.
Tony's puppy training tip for potty training was to keep the leash short when taking our pup's out to potty.  The leashes we use for guide dog training has a short and long attachment.  Our leashes can usually be clipped in at about 3 feet or 6 feet.  The reason why Tony recommended the short leash was because if puppies are only used to going potty on the long setting then it makes it much more difficult for a visually impaired or blind person to pick up poop.
I always made sure to keep my puppies from not wandering or sniffing too much when going potty, but this was the first time I had heard the importance of keeping your pup on the short leash setting to keep them close by for the purpose of picking up poop.  This is definitely one I will be doing with my future guide dog pups.
So that's it!  Did you learn something new about guide dog puppy raising?  or hopefully you learned something new that will help you when raising and training your own puppy.
Do you have any unusual puppy training tips that you use with your puppies?  Tell us about it in the comment section below.
Top Picks For Our Puppies
Check out more of our favorites on our New Puppy Checklist.