This Puppy Is…Part Boxer?
This post may contain affiliate links. We may earn money or products from the companies mentioned in this post.
Dublin was quite the helper when he would come into the office with me, but part boxer? I don't think so…Dublin was/is a purebred yellow Labrador Retriever bred at Guide Dogs of America.
Today Dublin is a working guide dog and we chronicled his entire journey in our Puppy In Training TV series.
If you have a moment take a look at Dublin's videos as we tell his story from picking him up as a 7 week old puppy to guide dog graduation to visiting and watching him as a working guide dog.
This Puppy Is…Part Boxer!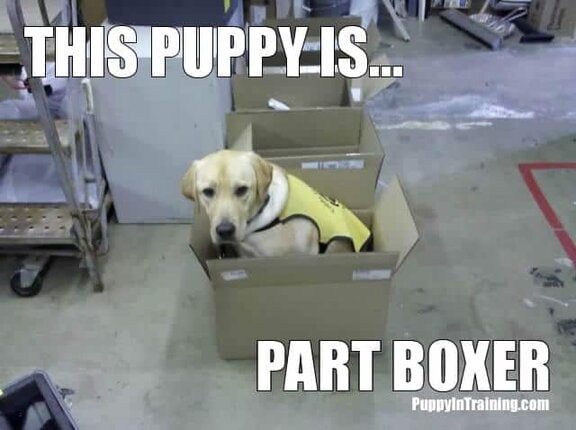 I love that picture!  Dublin helping out in the warehouse.  If he didn't continue on to his career as a guide dog maybe he could have worked the shipping department at Ascolta 🙂  I'm sure they would have loved having Dublin as a permanent worker back there!
By the way, if you are interested in raising and training a guide dog puppy please feel free to contact me through our contact form and I can send you some details on how we started our journey as puppy raisers.
Just to let you know raising and training guide dog puppies has been one of the most rewarding experiences in my life so if you're a puppy or dog lover then please do yourself a favor and check your area for local service and guide dog schools that might offer puppy raising opportunities.
Did you see our last puppy pic/meme?  Check out I'm Not Fat…I'm Just A Little Husky.
Top Picks For Our Puppies
Check out more of our favorites on our New Puppy Checklist.