Guide Dog Puppy Raiser Vs. Service Dog Puppy Raiser
This post may contain affiliate links. We may earn money or products from the companies mentioned in this post.
No, this is not a competition, but it is something that has been weighing on my mind…should I continue being a Guide Dog Puppy Raiser or should I move to a different organization/school and volunteer as a Service Dog Puppy Raiser?
Over the past few years I've had the opportunity to talk to many of the different non-profit animal organizations out there.  Most of you already know that I've been a long time volunteer puppy raiser for Guide Dogs of America (GDA).  However, more recently I've been interested in branching out and learning more about some of the other wonderful assistance dog organizations.
Where Should I Volunteer My Time?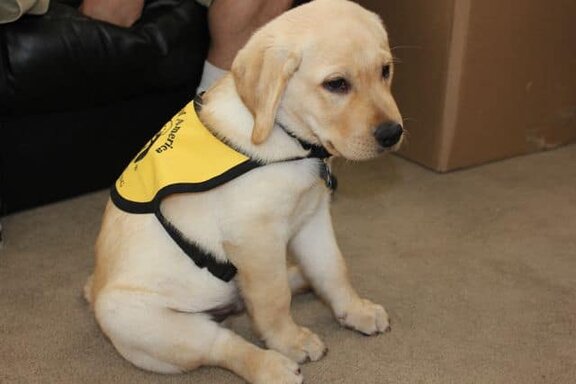 While working for the technical education company, Ascolta I learned the importance of volunteering time to my community and found how rewarding it can be to help others in need.  Before I started volunteering with Guide Dogs of America I involved myself in the community as a foster parent for Cuddly Canines Rescue and also volunteered for Special Olympics, Habitat for Humanity, and Working Wardrobes.
While I enjoyed helping all of these organizations I truly love working with puppies and dogs while also helping people.
I did consider for a short while going back to fostering (this may be something I do again in the future), but I've always enjoyed the long term commitment of training a puppy from 8 week old puppies to 18 month old young adults.  Not only the training, but the fact that you get to train a puppy to help another human being makes the adventure all the more rewarding.
So why not continue as a Guide Dog Puppy Raiser?  Honestly, I love raising for GDA!  I love my local Orange County GDA group!  I love the volunteers, staff, guide dog teams, and all people involved with the organization.  However, I wanted to do a little more:
I wanted to learn more about all kinds of assistance dogs.

I wanted to learn how to teach more commands/cues.
I wanted to work on more advanced training.
I wanted the opportunity to work with not only the puppies in training, but also the clients.
Unfortunately, these things would not happen at Guide Dogs of America.  I still plan on helping GDA whenever possible, but instead of continuing as a Guide Dog Puppy Raiser I wanted to try volunteering as a Service Dog Puppy Raiser.
Assistance Dog Organizations
Before I became a GDA Puppy Raiser I researched and applied to several other Guide and Service Dog organizations in southern California.  I actually sent my application to these schools back in 2006:
Guide Dogs of America (GDA) – I currently meet with the Orange County group in Irvine, CA
Guide Dogs for the Blind (GDB) – I met with the Mission Viejo, CA group several times.
Guide Dogs of the Desert (GDD) – I sent my application and emailed them several times, but never heard back.
Canine Companions For Independence (CCI) – I sent my application, spoke to the puppy manager and a couple trainers, I also attended their graduation in Oceanside, CA
That was the process back in 2006 and as you know I ended up a puppy raiser for GDA.  So far I've raised 4 puppies for Guide Dogs of America and puppy sat dozens (maybe even in the 100's) of puppies for GDA.
Shortly after turning Apache (my 4th GDA pup) in for formal training I decided I wanted to raise a service dog puppy in training instead of a guide dog.  I immediately started researching schools.  Here's a list of schools I contacted:
Canine Support Teams (CST) –

Located in Temucla, CA.  

About 1 month after I turned in Apache he was career changed and began Advanced Training with CST.  I had heard of CST ever since I raised my first puppy, Stetson and learned more as Apache went through the program.  I applied to the school and attended several of their outings.  Apache eventually graduated from CST in April 2012.

Tender Loving Canine Assistance Dogs (TLCAD) – Located in San Diego, CA.  I applied to the school and attended a couple events.  I also went though their training program and learned some new things about training and assistance dogs.  I wrote a separate blog post on TLCAD here.
Little Angeles Service Dogs – Also located in San Diego, CA.  I applied to TLCAD and attended an interview to become a volunteer trainer.  They never contacted me back after the interview even after I followed up.  I guess I flopped the interview 🙁
Canine Companions For Indepedence (CCI) – Located in Oceanside, CA.  They still had my application on file and told me to contact them anytime I was ready to raise a puppy.  They also offered their training classes in Irvine which was nice, but I never made contact with CCI this second time around.
As you can see I take these things seriously and it took me nearly a year to decide on which program would work best for me.  In the end I was very torn between not only two of these great Service Dog schools, but I was also still committed to and considering raising another GDA pup, but in the end I decided…
Why I Decided To Raise A Puppy For Canine Support Teams (CST)?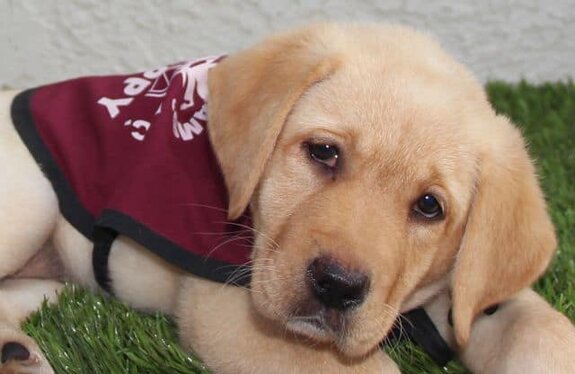 There were two organizations that stood out for me: Tender Loving Canine Assistance Dogs and Canine Support Teams.  I was seriously back and forth on my decision from one day to the next, but it really came down to one key point:  There are 4 (possibly more) other CST puppy raisers living in Orange County.
Why does this make a difference?  In general these schools are very picky about who can watch your puppy.  Most schools allow other puppy raisers to puppy sit, but other people not known to the school are usually not allowed to puppy sit.  Having 4 puppy raisers close by means I don't have to drive as far to get a puppy sitter.  This is very important when you need a puppy sitter for a few hours or just a day or two.
In the end I feel very lucky that I have the opportunity to work with any one of these great organizations.  The fact that I have a choice is all the sweeter.
How about you guys?  Do you volunteer for a non-profit organization?  If so, tell us a little about the organization and what you do as a volunteer.  We love learning about all the great volunteer opportunities out there!
Top Picks For Our Puppies
Check out more of our favorites on our New Puppy Checklist.