What Should You Teach Your Puppy Next? 14 Fun Classes For You And Your Pup!
This post may contain affiliate links. We may earn money or products from the companies mentioned in this post.
Congratulations!  I'm glad you decided you want to continue training your puppy!  Most people think when it comes to training your pup it's a one and done.  They take their puppy to one obedience class (if that) and now the pup and owner know everything.  While taking your puppy to one obedience class and applying what you learn over the lifetime of your pup is great there is so much more you can do with your puppy.  We already told you what your should teach your puppy first.  So, what should you teach your puppy next?
What Should You Teach Your Puppy Next?
I'm a huge advocate of continued learning not just for my dogs, but in my own life as well.  I'm hoping to improve my photo and video chops by taking classes at my local community college this coming semester.
Self-Improvement is great, but what about Pup-Improvement?  Here's a look at all the classes we've taken Archer to over the past year (including his schedule for the rest of 2016)
ARCHER'S PUPPY TRAINING SCHEDULE
1. Obedience
We've probably all done at least one obedience class.  This is the foundation for all your training and important for every dog.  Learn dog training skills and teach basic cues like sit, down, stay, recall, etc.  What you don't see in the schedule below is that we've taken the Fundamentals class 4 times, Testing Cues 2 times, and College Prep 2 times.
Puppy Kindergarten (Completed) 
Obedience Level 1 – Fundamentals (Completed)
Obedience Level 2 – Testing Cues (Completed)
Obedience Level 3 – College Prep: Distance, Duration, Distraction (Completed)
PhD Training – Advanced Walking Skills (Scheduled 9.26.2016)
Real World Training – Out and About (Scheduled 11.21.2016)
2. Sport Dog
We're loving the Sport Dog class!  So much so we're thinking about enrolling Linus.  There's a lot of balancing on platforms, giant peanuts, discs.  Learning to crawl, weave through legs, backup, etc.
Sport Dog Level 1 (Completed)
Sport Dog Level 2 (In Progress)
Sport Dog Level 3 (Scheduled 9.27.2016)
3. Tricks
We've already learned a few of these like Give Five, Crawl, but we'll add a few more to Archer's repertoire.
Tricks Level 1 (Scheduled 8.20.2016)
Tricks Level 2 (TBD)
Tricks Level 3 (TBD)
4. One Day Training
These are single classes focused on specific behavior.  Does Archer need help in all of these areas?  Maybe not, but I'm sure it can't hurt…
Really Reliable Recall (Scheduled 8.31.2016)
Door Manners (Scheduled 8.31.2016)
Focused Attention (Scheduled 11.19.2016)
Street Smarts (Scheduled 12.3.2016)
Fido Fetch (Scheduled 12.3.2016)
Nosework Intro (Scheduled 12.15.2016)
Focused Attention at the Park (Scheduled 12.17.2016)
Street Smarts at the Park (Scheduled12.17.2016)
That's Archer's schedule. Here are a few other classes we've taken with our other dogs:
5. K9 Nosework
Tons of fun.  Teaching you dog to use his nose to find different odors.  I'm thinking about getting Stetson back into Nosework.  We'll see…
6. Canine Good Citizen
Stetson passed his CGC many moons ago.  Our plan is to get Archer his Canine Good Citizen certification before he starts working as a service dog.  Go Archer!
7. Guide Dog Class
We've raised 4 puppies through Guide Dogs of America (GDA) and they offer monthly classes to their puppy raisers.  These classes are specifically designed to prepare puppies to become guide dogs.  Unfortunately, these classes are only made available to guide dog puppy raisers.
8. Service Dog Class
We raised Adelle for Canine Support Teams a service dog organization.  Similar to GDA, Canine Support Teams offered specific training classes for puppy raisers to help prepare puppies to be working service dogs.
9. Socialization – Out and About
As guide and service dog puppy raisers we are privileged to have outings organized by our group leaders to help get our puppies used to being out and about in public.  A few outings have included bus training, fire station visit, shopping malls, movie theaters, theme parks, baseball games, train rides, and many other public locations.
Here are a few classes we haven't yet taken, but look like a ton of fun:
10. Treibball
Treibball is a terrific new way to play with your dog. The game consists of "herding" a number of large inflatable exercise balls into a soccer-like net.  Sounds like something Linus would enjoy, but I'm not sure he'd be too keen on pushing a ball around with his nose.
11. K9 Freestyle
A modern dog sport that is a mixture of obedience training, tricks, and dance.  Another possible class for our Aussie mix, Linus!
12. Rally Obedience
We've actually dabbled in rally obedience, but I'm not sure any of my dogs have the chops to be a Rally champion.  A dog sport based on obedience following a course with signs/designated stations.  Hrrmm…maybe something we could do with Raven?
13. Agility
Any agility class screams Linus!  The only problem is I'm not sure he'd weave through poles, burrow through tunnels, or walk across platforms…Raven probably would!
14. Zen Dog Class
A class designated to help "dogs with issues"  Well, I'm sure I could classify all 4 dogs to have some kind of issue (I'll talk about that in our next blog post).  Anyhoo, sign up all 4 of my dogs!
So, What Are You Going To Teach Your Puppy Next?
While dog training classes can be invaluable especially when you have a certified professional dog trainer helping you every step of the way many of these activities can also be done on your own.  Honestly when it comes to teaching your puppy knew things you are only limited by your imagination (or maybe the videos posted to YouTube).
Hopefully todays list has motivated you to do more with your puppy.
So what about you guys?  What are you teaching your puppy next?  We want to grow our list so tell us what you're teaching your puppy in the comment section below.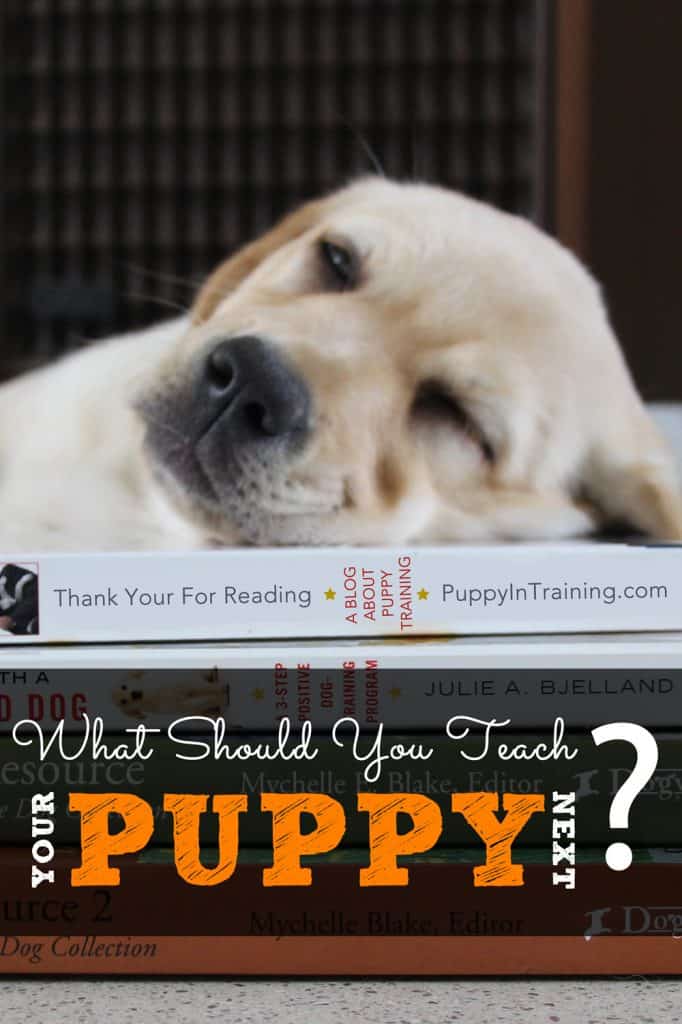 Top Picks For Our Puppies
Check out more of our favorites on our New Puppy Checklist.