A Note To Pet Product Advertisers…Build Relationships!
This post may contain affiliate links. We may earn money or products from the companies mentioned in this post.
I know a few of you out there are pet bloggers and I'm sure you've run into the same frustrating moments as me when it comes to pet product advertisers.  Today we're veering away form the normal puppy training tips and instead we're going to give a little lesson on what we think advertisers should be doing to get my attention.  Here's a list of things  I'd recommend pet product advertisers do to get a better response from us, the pet bloggers.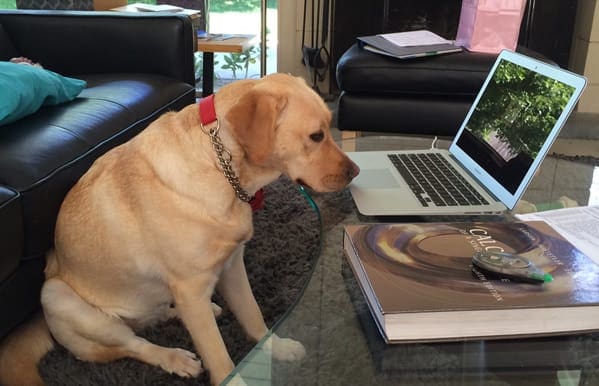 5 Things Pet Product Advertisers Can Do To Get A Response From Me (The Pet Blogger)
I get several email requests from pet product advertisers every day and if you (the advertiser) don't somehow make yourself standout it goes directly into the circular file.  Guess what?  You can easily make yourself standout!  The problem is you need to take a little extra time before sending that email request.   Here's a list of things I'd recommend every advertiser do to get my attention.
1. Figure out my name
My last 4 salutations from Advertisers: Hi, Good Afternoon, Hello, and Dear Sir.  Not one of them included my name.  Come on guys!  First of all, I'm terrible with names in person, but when it's as easy as going to an About page and finding a person's name and a little bit about him it doesn't get much easier then that.
Bonus Points: Figure out my dog's names, find out more information about me, my dogs, and my story.  Make some kind of connection with me.  You have a Labrador Retriever?  Great! we can relate to fast eating pups.  You're a puppy raiser too?  Great! we can relate to turning in our dogs when they're 18 months old.  Weave that information into your email message.
2. Stop using that stupid form letter
I'm going to tell you a true story.  I recently received an email that was addressed Dear FName along with several other spots that required copy/paste of information.  A second email was delivered that clearly had information copy/pasted from my website (the font styles were different then the rest of the email).
The message here:  Please stop using that form letter and send me a personal email.
Bonus Points: Major bonus points if you handwrite and mail me a personal letter.  Forget that email thing…I don't think it will ever catch on 🙂  Seriously, when was the last time you hand wrote a letter to anyone?  What!? You forgot how to handwrite?  Well, lets get more technical then.  Instead of an email or handwritten letter send me a video response.  Today everyone has an HD video camera on their cell phone. You can easily contact me through YouTube or just email me a link to a personal video message.
3. Read some of my blog posts.
I spent thousands of hours writing hundreds of blog posts.  Pouring my time and energy to talk about some of my favorite topics.  You're telling me you can't read a handful to try and get to know me and my blog?  By the way, don't just cut and paste my last blog title and say you really enjoyed my article about "How To Potty Train A Puppy".  You will get major red flags for that one.
Bonus Points: Subscribe to my news feed through an RSS Reader like Feedly and read my daily blog posts.  Do this for about a month before contacting me.  Now weave in what you've learned about me over the past month.
4. Leave a good comment(s)
I don't think any advertiser has come to my attention by leaving a comment on my blog.  Let me give you a bit of good advice.  First of all, I try to respond to every "meaningful comment" on my blog.  Put together a well thought out comment and you'll most likely hear back from me.  Your odds of getting in touch with me this way before your sales pitch will increase 1000% (that's not a real number, but lets just say by a lot).
Bonus Points:  Don't stop with one good, meaningful comment.  Subscribe to my blog posts through your favorite RSS reader and keep leaving meaningful comments before making that initial sales pitch.  Comments and interaction don't stop at my blog…join me at my social media channels: Facebook, YouTube, Twitter, and Google+.  Interact with me there by tweeting, commenting, and liking my posts.
5.  Subscribe to my newsletter
Our newsletter gives you further insight about what we're up to at the blog.  This gives you one more chance to learn more about me and the dogs and guess what?  Although I have several thousand subscribers I usually only receive a handful of subscribers per day.  I see names and often times recognize them later on.  This is a good way to get in front of my eyes.  Isn't there a marketing rule of 7 that you can apply in this situation?
Bonus Points: One of the awesome links in my newsletter to one of my blog posts moved you to tears?  Expand upon that on your blog (I'm sure you have a company blog) and link back to me.  Then email me telling me that my post was so moving that you had to respond in a blog post of your own.
My Question For Pet Product Advertisers: Who's Going To Step Up?
You're in luck!  95% of pet product advertisers (this is a real number I checked my last 20 emails from advertisers and only 1 used my name) have not stepped up.  If you want to standout and make a connection with me start building a relationship.  Use at least some of these tips and there's a good chance I will respond back to you.  Use all of these tips and bonus tips and I guarantee we will be chatting and I will seriously consider whatever you're pitching.
So what's the problem?  Why will I continue to get the same emails from advertisers not following the above outlined rules?  My guess is that mass emailing pet bloggers works.  Pet bloggers please stop responding to these mass mailings!  It's a lot easier for advertisers to take a form letter and click send to thousands of email addresses in a single instant.  Building a relationship is much more difficult, but worth it.
What say you pet bloggers?  Do you have a few pet peeves about pet product advertisers?  And pet product advertisers what's your take?  Are you going to follow these guidelines?  Tell us your thoughts in the comment section below.
By the way, if you're a pet blogger and you're trying to get in touch with me follow steps 1-5 above 🙂
Top Picks For Our Puppies
Check out more of our favorites on our New Puppy Checklist.