Evolution Of A Puppy In Training Logo
This post may contain affiliate links. We may earn money or products from the companies mentioned in this post.
In recent weeks I've been trying to redesign the Puppy In Training website and also create a new logo for said website.
It's been a long process, but everything is finally coming together and I wanted to show you some of my early thoughts on the logo design process and also some of the resources you might be able to use to design your own logo.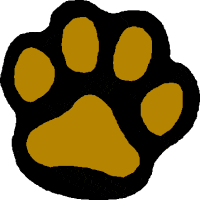 My first inkling of logo design was just the simple paw print.
However, this is a common logo for many dog and puppy websites and I wanted to be at least a little bit original. Here's the paw print I was thinking about using:
I'm not sure when I first thought about redesigning my site and creating a logo, but I do remember coming across Johann's website in recent months and saw a short post on the company LogoYes (now defunct, I guess my links didn't generate a windfall of traffic).
Johann put together an article called Online Logo Generator and wrote about LogoYes.
LogoYes
I decided to check out LogoYes
.
The site is very easy to use and you can create your own custom logo in just a few minutes.
It's free to try and for a small price you can buy the logo files and business cards. Here's the logo I created in just 5 minutes:
LogoYes was very easy to use and you can create a great looking logo in no time at all.
However, I wanted more flexibility and in my mind I already had an idea of what I wanted my logo to look like. There are many great logo images on the LogoYes site that you might want to use for your own company logo.
If you're looking to create a new or redesign your logo I suggest you take a quick look at LogoYes and see if their services meet your needs.
Puppy In Training Logo
The logo all came together in the past couple weeks.
I don't mind paying the $69 or $99 to create my logo using the LogoYes software, but it just wasn't getting me exactly what I wanted (like I said I already had an idea of what my logo would look like…in my head).
So, I took my feeble graphic design, drawing, and art skills and went to work on a custom logo (I probably would have been better off hiring somebody).
I was hedging back and forth with the paw print because I couldn't get my drawings of a puppy to look very professional in particular I wanted an image that looked like my puppy Linus.
Raise A Green Dog!
As luck would have it while reading through my RSS feeds I happened to visit another of Johann's great websites called Raise A Green Dog! Here's a little excerpt from the Raise A Green Dog! About Us page:
Help your dog go green! By purchasing environmentally responsible pup products, utilizing environmentally safe household products, and by taking other sustainable measures, you can have a healthier and happier pup, and help the environment at the same time!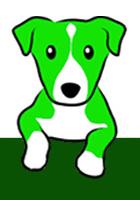 I enjoy all of Johann's websites, posts, he even has I believe over 100 Squidoo lenses.
However, this time I noticed something I didn't see before.
The body of his little green dog logo was exactly what I wanted on my logo. Take a look:
I wanted to draw my image with puppy Linus's paws hanging over the edge of the logo just like this little green dog.
I tried to redraw this logo, but make the image look like my puppy Linus.
Speaking of my puppy Linus you might be wondering what does he look like?
He's actually a Australian Shepherd mix, but looks a lot like a lab.
I wanted the logo to look like a lab (but secretly I'd know it was created from an image of Linus) as most of our guide dog puppies in training are Labrador Retrievers.
Here are the two pics of Linus that I was trying to copy:
The Final Version – Puppy In Training Logo
After looking at the pictures of Linus, doing my best to try and imitate the lower portion of the Green Dog logo, and also trying to mix in the look of a Labrador Retriever I came up with the following logo (the logo is blue because the new website will be blue):

A few notes:
I'm not sure if I'm going to keep the Magazine portion as part of the site logo.
The new site design will feature a magazine style and have the feeling of a more traditional website. However, at it's core it will still be a blog.
I'm sure between now and my site launch I will still make slight changes to the logo.
I'm very please with the way the logo looks. Professional help and artwork would have very much helped ease the process.
You can see quite a few flaws in the larger version of the logo.
I don't think I'll need a larger version of the logo unless I need to print something like business cards or letterhead.
Anyways, unless someone out there would like to donate a free logo to me for some website publicity I'm sticking with the new logo design above.
What do you think of my new logo design? Good, Bad, Ugly???
Does anyone know of good resources for designing a logo?
Top Picks For Our Puppies
Check out more of our favorites on our New Puppy Checklist.