Introducing The New Improved PuppyInTraining.com!
This post may contain affiliate links. We may earn money or products from the companies mentioned in this post.
It's been a long hard battle for me, but I finally gave the Puppy In Training website a much needed face lift. If you're an RSS subscriber and only receive my articles in your feed reader or by email then take a moment to visit the new improved Puppy In Training website.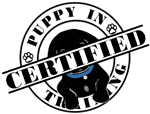 Gone is yesterday's colors, page design, and layouts. Say hello to the new magazine style layout. We no longer have the look and feel of a standard blog, but instead we chose to design the front page in quadrants with different topics covered in each section. We finally got the new logo up that we talked about and showed you a couple months ago at Evolution Of A Puppy In Training Logo. We stuck with the Puppy in Training Magazine name as we wanted this to be kind of an online interactive magazine type of site. Here's an image and some brief descriptions about the new layout: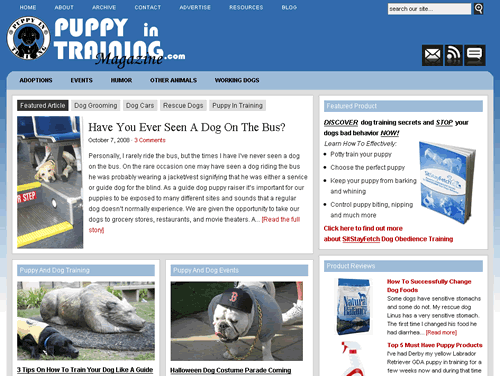 :
The main section in the middle will contain a Featured Article along with tabbed categories that you can quickly click through.
Below that are two columns containing a Puppy And Dog Training section and a Puppy And Dog Events section.
In the top right quadrant is our Featured Product. Our current featured product is the SitStayFetch Dog Obedience Training program. We read this e-book from cover to cover during our trip to Alaska. We plan on posting a review of the program in the near future.
Just below that in the bottom right quadrant are our regular Product Reviews. We have several products at home that we will have reviewed in the coming months.
There are also two horizontal navigation bars. One at the very top of the page which shows our regular pages (mainly about the site) and a second navigation bar just below the logo that shows our website blog topics (this is where our blog articles will be organized.
There's still a lot of work to be done, but overall I'm definitely pleased with what we have up right now. You'll notice that I have thrown in some sponsored advertising here and there on the site. This is in hopes to offset any costs associated with keeping this site up and running.
Well I hope you enjoy the new design and remember if you don't regularly visit the site then hop on over to check out the new design by clicking this link: Puppy In Training.
Let me know what you think about the new site design. Do you like it? Is there anything I can do to improve the look and feel? Any input is greatly appreciated.
Top Picks For Our Puppies
Check out more of our favorites on our New Puppy Checklist.