A Quick Puppy Training Tip
This post may contain affiliate links. We may earn money or products from the companies mentioned in this post.
Today I've got a quick puppy training tip for you.
I've talked about puppy pickup day quite extensively here on the blog.  Can I just reiterate that it's an AWESOME DAY!  It's the evening that can sometimes be a disaster if your puppy does not like crate training.
That brings me to today's quick puppy training tip.  On puppy pickup day we are given a packet full of paperwork.  It's basically a folder with our puppy's name, health records, vet reimbursement sheets, blank monthly puppy reports, GDA information, and puppy training tips.
I was looking over one of those puppy training tips and I thought I'd share it with you today.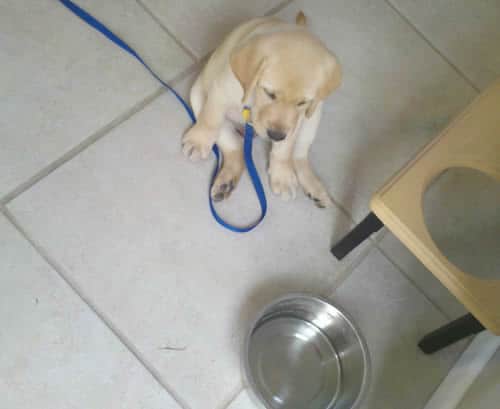 A Quick Puppy Training Tip
From my Guide Dogs of America (GDA) puppy folder.  Puppy training tips for the first week:
Your puppy is being sent home at 7 to 8 weeks of age, it is vital for this puppy to spend a week at home before going out into public.  Use this time to help the new puppy get used to his/her new family and surroundings, learn his/her name, how to sit for feeding time, crate training and last but not least learning to relieve on leash.
A lot of us are really excited to show our puppies off.  However, try not to forget the following:
Your puppy was born 7 weeks ago…
There's a good chance this is his first time outside the sterile nursery…
This is his first time away from his family (brothers, sisters, mother)…
Every person, place, and thing he meets is brand new…
Those are a lot of new things for your puppy.  Take it easy with him.  Give him a week to get used to his new family and surroundings.  You don't need to rush him out into the public.
What did you do during your puppies first day and week at home?  How did it go?  Tell us some of your puppy training tips in the comment section below.
Top Picks For Our Puppies
Check out more of our favorites on our New Puppy Checklist.