Cesar Millan's Mastering Leadership DVD Review Part I
This post may contain affiliate links. We may earn money or products from the companies mentioned in this post.
In your household is your dog the Pack Leader? Does your dog jump on you when you arrive home? Does your dog paw you when it's time for dinner? When you open the front door does your dog walk out first? If you answered yes to any of these questions then Cesar Millan's Mastering Leadership DVD Set is something you have to see.
I just received the Cesar Millan's Mastering Leadership DVD Set. Do you enjoy watching Cesar Millan the Dog Whisperer on the National Geographic Channel? This DVD set is not exactly like the Dog Whisperer where he goes around to different homes solving problems. It's filmed in front of a live, interactive audience with practical footage, and also some clips from the Dog Whisperer show to reinforce specific points.
People Training For Dogs – Disc 1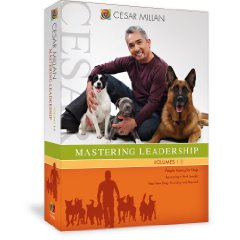 Here's an outline from Disc 1 of Cesar Millan's Mastering Leadership DVD Set.
The five section this disc covers are:
Dogs as animals
Dogs as a Species
Dogs as Breeds
Dogs as Personality
Dogs Fulfillment
After I watched disc 1 (twice) I thought to myself…I'm going to make my parents watch this disc. I'm not sure if they'll follow all or any of Cesar's teachings, but it's very eye opening and will help them better train their dog.
5 Important Points From Disc 1:
Rules, Boundaries, and Limitations – Your dog must have rules, boundaries, and limitations. As a pack leader it's your job (the human) to enforce these because if you don't then your dog will assume the role of pack leader and start setting up his own rules, boundaries, and limitations.
Four Levels Of Energy – Very High, High, Medium, and Low – Low and Medium are born to be followers and the high and the very high are born to be leaders. It's not so much the breed you want, but the level of energy.
Importance Of The Walk – a simple walk makes you in tune with your dog. That's why a homeless person and their dog seem to be so in tune together because they're always walking together. The owner should be in the front and the dog should be in the back (owner leads the dog).
Dog Fulfillment – Knowing how to fulfill a dog properly will give them balance.
The Fulfillment Formula has an order 1. Exercise 2. Discipline 3. Affection – this will accomplish what your dog needs. We often times mix up the order in the formula. We need to fulfill our dogs first then ourselves. The Affection is for us (the humans) not for the dogs. The Body | The Mind | The Heart.
Of course there's a ton of other information besides just what I listed above, but I wanted to share the main points that stuck out in my head.
My Thoughts
As I mentioned earlier as soon as I finish up with this DVD set it's going to my parents and I'm going to force them to watch all three discs. I was very impressed by the first disc, People Training For Dogs. It covers some key areas that I believe will help both novice and advanced dog owners. The first disc runs only about 45 minutes in length and is very easy to digest in one sitting. I'd recommend any person who wishes to increase their understanding of dogs, dog behavior, dog psychology, and would also like to strengthen their bond with their dog to purchase and watch Cesar Millan's Mastering Leadership DVD Set Disc 1.
Wait…there's more to come. Over the next few days I'll also review Disc 2 and 3.
Cesar Milan Mastering Leadership DVD Contest
I have a brand new extra copy of Cesar Millan's Mastering Leadership DVD Set that I want to give to one of my lucky readers. All you have to do is leave a comment anywhere on my blog during the month of December 2008 and I'll enter your name in a drawing to be held January 1st to give away the Cesar Millan's Mastering Leadership DVD Set. By the way, "Nice Post" just won't cut it. You must add a meaningful comment that adds to the blog post. Try relating your comment to the post and something that has happened in your life. You can add as many comments as you like and I'll enter your name an extra time each time you leave a meaningful comment
I hope you enjoyed the review and please let me know if you have any questions in the comment section below…your next comment could win you the Cesar Millan's Mastering Leadership DVD Set.
Top Picks For Our Puppies
Check out more of our favorites on our New Puppy Checklist.