Do All Puppies In Training Become Guide Dogs?
This post may contain affiliate links. We may earn money or products from the companies mentioned in this post.
Unfortunately the answer to this question: Do All Puppies In Training Become Guide Dogs? is no, not all Guide Dog Puppies in Training will become Guide Dogs. As a Guide Dog puppy raiser many people come up to me and ask questions about Stetson (my guide dog puppy in training).
The most common question is "Aren't you going to miss him when he moves on?" Of course I will miss him…I spend the majority of my waking hours with Stetson. The only time I'm not with him is when I need a break (crate him for a few hours) or I can't take him with me (when I'm playing hockey). So of course I will miss him.
Another common question is do all the puppies in training become guide dogs? or do some of the dogs get dropped from the program?
Do All Puppies In Training Become Guide Dogs?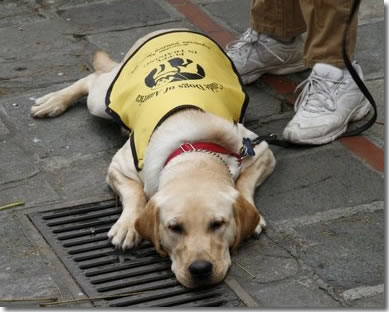 Not all of the Guide Dog puppies in training become guide dogs. I was told that 60% of the guide dog puppies wil become guide dogs. That means that 40% are dropped from the program. What happens to the 40% who are dropped? They can move on to several different areas including Search and Rescue, Service Dog, Hearing Dog, or Therapy Dog. Many of these puppies will go back to their puppy raisers and become pets.
Why Am I Thinking About Guide Dog Career Changes?
When a guide dog puppy chooses not to be a guide dog they are considered career changes. I started thinking about this because Stetson is heading to formal training on May 10th which means he'll be leaving me forever (as long as he isn't career changed).
I thought back to Stetson first puppy kindergarten when he was only 8 weeks old. There were 6 puppies in his class: Stetson, Noelani, Natalie, Naomi, Trooper, and Ulie. I found out this week that out of those 6 puppies only two are moving on to formal training on May 10th, Stetson and Natalie. However, I'm not too sure if Noelani is career changed or just staying with her puppy raiser for another 3 months. Even if Noelani is moving on then that's 3 out of 6 (50%) puppies who have already been dropped from the program.
Does that mean Stetson will make the program…afterall 60% make the program and from his puppy kindergarten 50% have already been dropped. Not really…
Whatever the numbers say I still like Stetson's chances. He's been a great puppy and shows many qualities befitting of a working guide dog. I like how Anne (Dustin's puppy raiser) put it in a comment from one of my recent posts:
"If ever there was a puppy in training to become a working guide, Stetson you are it. You have the right combination of work ethic, stamina, and exuberance."
Thanks Anne we appreciate your kind words.
What have you experienced with your puppies? What percentage make it into your program?
Top Picks For Our Puppies
Check out more of our favorites on our New Puppy Checklist.