Dublin's Guide Dog Training Update
This post may contain affiliate links. We may earn money or products from the companies mentioned in this post.
It's been over 4 months since I dropped off Dublin at guide dog college.  I still think about him and how he's doing just about every day.  I like posting some of his old puppy pictures to our Facebook page.  Every time I visit the Guide Dogs of America (GDA) campus I ask how he's doing and of course the response is always that he's doing great.
Just in case you haven't been following us on Facebook (if you aren't then you should) Dublin also sends us a postcard just about every month.  Like I said in case you missed it here's an image of the 4 postcards I've received so far.
Guide Dog Training Postcards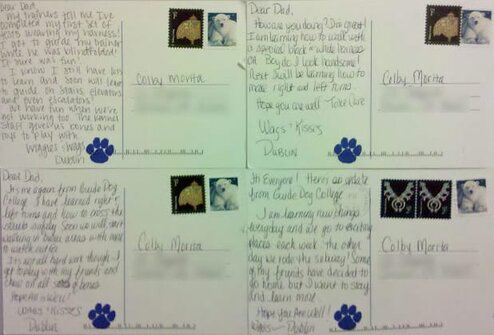 It's a little small and blurry so here's what Dublin has to say in his 4 postcards:
Postcard #1 (received around December 2011)

Dear Dad,
How are you doing?  I'm great!  I am learning how to walk with a special black n white harness on.  Boy do I look handsome!  Next I will be learning how to make right and left turns.  Hope you are well.  Take care.
Wags + Kisses
Dublin
Postcard #2 (received around January 2012)
Dear Dad,
It's me again from Guide Dog College.  I have learned right & left turns and how to cross streets safely.  Soon we will start walking in busier areas with more to watch out for.  It's not all hard work though.  I get to play with my friends and chew on all sorts of bones.
Hope all is well!
Wags & Kisses
Dublin
Postcard #3 (received around February 2012)
Dear Dad,
My trainers tell me I've completed my first set of test wearing my harness!  I got to guide my trainer while he was blindfolded!  It sure was fun!
I know I still have lots to learn and soon will learn to guide on stairs, elevators, and even escalators!
We have fun when we're not working too.  The kennel staff gives us bones and toys to play with.
Wiggles & Wags
Dublin
Postcard #4 (received around March 2012)
Hi Everyone!
Here's an update from Guide Dog College
I am learning new things everyday and we go to exciting places each week.  The other day we rode the subway!  Some of my friends have decided to go home but I want to stay and learn more.
Hope you are well!
Wags
~Dublin
More Dublin Updates
I've been hearing good things about Dublin and I'm hoping for an April graduation.  However, you never really know, but just in case I have my fingers crossed and Sunday, April 22nd 2012 (date of the next GDA graduation) is circled on my calendar just in case Dublin graduates on that day.  As soon as I hear news on whether or not Dublin is a part of the next GDA graduating class I'll let everyone know here, on Facebook, Twitter, and YouTube.  Hopefully some of you out there can join us at Dublin's graduation.
By the way I plan on putting together some bonus Puppy In Training TV videos with some extra never before seen footage in the near future leading up to hopefully Dublin's upcoming graduation (and graduation video).  As an added bonus I'm going to add short bonus segment at the end of each episode with the Adventures of Apache my most recent guide dog puppy in training.
In case you don't know about out Puppy In Training TV series…way back when I first picked up Dublin I decided to create video episodes chronicling his journey to becoming a guide dog.  Here's a list of the 18 episodes we produced:
Episodes
Episode 1 – Picking Up Your Puppy
Episode 2 – Take Your Dog To Work
Episode 3 – Guide Dog Puppy Sitters
Episode 4 – OCTA Service Animal Training
Episode 5 – Halloween Dog Costumes And Dog Car Reviews
Episode 6 – Los Caballeros Tennis And Puppy Training
Episode 7 – Puppy Training Ride
Episode 9 – Scavenger Hunt At Fashion Island
Episode 10 – Puppy Training In The Snow and Bass Pro Shop
Episode 11 – Guide Dog Pups At The Movies!
Episode 12 – Orange County Pet Expo
Episode 13 – GDA Puppies And The March of Dimes
Episode 14 – Trains, Trams, Buses, And Puppies
Episode 15 – Guide Dogs of America Open House
Episode 16 – Guide Dog Pups Visit The Fire Station
Episode 17 – Dogs At Disneyland
Episode 18 – Puppy Turn In Day
So…hoping for an April graduation and stay tuned for upcoming Puppy In Training TV episodes.
As I mentioned I started shooting video with Apache.  If you have an idea for one of Apache's bonus segment videos then please leave us a comment and let us know what you think in the comment section below.
Top Picks For Our Puppies
Check out more of our favorites on our New Puppy Checklist.