Service Dog Graduations Don't Always Go As Planned :(
This post may contain affiliate links. We may earn money or products from the companies mentioned in this post.
Not every day is a perfect day.  Today was one of those less than perfect days.  It was supposed to be a glorious day where friends and family witness the 18 months of hard work we put into preparing a puppy for work as a service dog.  Unfortunately, it was not to be…
Last week I wrote glowingly about Adelle (my most recent puppy in training) and her upcoming graduation.  I've been waiting for over a year for the moment when I would meet Adelle and her new partner.  We dropped Adelle off at the Canine Support Teams (CST) campus back in January 2015 to start her advanced training in the prison pup program.
Prepping For Service Dog Graduation
So what's a puppy raiser to do before meeting his puppy and partner at service dog graduation?
First, invite all the important people who were involved in raising and training your little girl.  Adelle's entourage was quite the gang: puppy raisers, parents, puppy sitters, friends, and family.  All together we had 18 people join us at the festivities.
Second, prepare a package for Adelle and her new partner.  Must include:
Adelle's favorite dog toy.  A giant Nylabone!
Photo album of Adelle and her adventures as a puppy in training.
Just like prepping for your puppy's first night home bring a blanket rubbed on her siblings (Stetson and Linus) to remind her of home.
Third, bring camera to document the moment.
Fourth, check and double check the date time and location of the event.  January 24th, 2016, 11am at Monteleone Meadows!
That's it!  I was ready for CST graduation!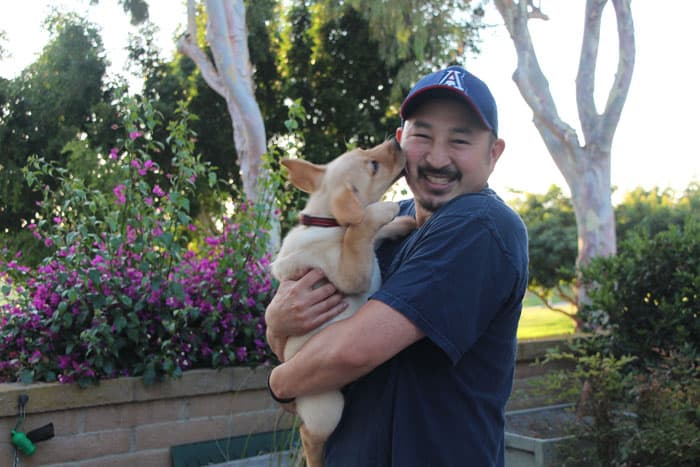 Disappointment At CST Graduation
After all the prep, anticipation, and excitement we embarked on our little drive to the CST Service Dog Graduation at Monteleone Meadows!
9:30am: Left the house for CST graduation at Monteleone Meadows!
10:50am: Arrive at Monteleone Meadows.  Check in and eagerly waiting at our table with the hopes of catching a glimpse of Adelle walking through the front door.
10:55am: Nervously looking at my watch.  We're a little early they should be here in 5 minutes.
11:00am: Scanning the room.  Maybe they're already here!
11:05am: Running fashionably late?
11:10am: Maybe they hit some traffic…
11:15am: Hopefully nothing happened to them on the way here…
11:20am: Our friend says they heard something about Adelle and her partner and we should talk to a CST employee.
11:25am: We find out that Adelle and her partner will not be making it to graduation 🙁
I try not to look disappointed.  I try to hide my feelings.  I look over my shoulder and Ali is trying to hold back the tears.  I know this moment is as important to her as it is to me.  Adelle is the first puppy we raised together and even though Ali always tells me raising service dog puppies is my thing I know deep down she is just as committed to our puppies as I am.
We quietly go back to our seats at the table and try to put smiles on our face as we tell our friends and family that Adelle will not be at graduation.  Our consolation for the day is our old time puppy raising friends Chuck and Pat's puppy, Travis is graduating (and at the graduation) and we're happy to be there to support them.
Unfortunately, things don't always go as planned.  As they say, it's always darkest before the dawn.  I'm sad that I didn't get to see Adelle today, but I'm happy she is helping someone regain her independence.  Hopefully someday we'll get the chance to see Adelle again and meet her new partner.  If not, I'm glad we were given the opportunity to play a small part in Adelle's upbringing and in turn help another person lead a better life.
Thank you to my friends and family for supporting me today and throughout Adelle's training (not to mention throughout our lives).  I'm sorry we didn't get to see Adelle and her new partner.  Apologies to my readers for not having Adelle graduation pics today 🙁 but at least you get to see a few more Adelle puppy pics 🙂
I hope other's haven't had disappointment at service dog graduations, but if you have and you'd like to share please leave us a comment below.
Top Picks For Our Puppies
Check out more of our favorites on our New Puppy Checklist.