This post may contain affiliate links. We may earn money or products from the companies mentioned in this post.
While playing around with Twitter I came across an interesting Guide Dog Advertisement at what looks like a bus stop billboard in Amsterdam. Here in Southern California I have not seen much advertising for our local Guide Dog organizations.
It's funny, but not till recently did I notice any Guide Dog Ads. I'm not sure if I just wasn't being very observant or if just recently (the past month) Guide Dog organizations have been trying to get their name out there through different forms of advertising. Here are three Guide Dog advertisements I came into contact recently:
Guide Dogs Billboard
The bus stop billboard in Amsterdam is a very clever advertisement. Take a look at the image.
Do you guys get it?
…
…
…
"See Through Dog"
It took me a few seconds before I actually picked up on that. It's an advertisement for KNGF Guide Dogs. KNGF is an acronym for Koninklijk-Nederlands-Geleidehonden-Fonds (Royal-Dutch-Guide-Dog-Foundation).
Guide Dogs Visa Card
I recently wrote about the Guide Dogs For The Blind Visa Card and would consider that a form of advertising. As I mentioned in the comment section I'd love to have my own Guide Dogs of America Visa card (now if we can only get GDA to sign on).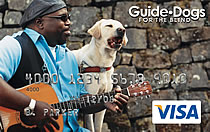 By the way, I love the picture on the card. Guy playing the guitar while his dog sings.
Guide Dogs Stamp
Another form of Guide Dog advertising I came across recently were Canadian stamps that Anne, Jim, and Dutch brought back for me from their recent vacation. Here's the image:
The stamp's pretty cool. They even put Braille next to the image.
Have you seen any Guide Dog advertisements recently?
Top Picks For Our Puppies
Check out more of our favorites on our New Puppy Checklist.