Halloween Dog Costume Contest
This post may contain affiliate links. We may earn money or products from the companies mentioned in this post.
I know what your thinking: "Halloween was almost three weeks ago!  I'm already prepping my turkey and getting ready for Thanksgiving!"  I know, I know…but I just got an email about a Halloween dog costume contest and I'm sure plenty of you got some great photos of your puppies in costume this year.
Speaking of puppies in costume did I show you Stetson's dog costume this year?
Stetson and I were lucky enough to get invited to the Orange County Guide Dog Halloween group meeting where the majority of the dogs were dressed up for Halloween.  Linus is not a big fan of dog costumes, so we didn't dress him up this year.
Stetson's Halloween Dog Costume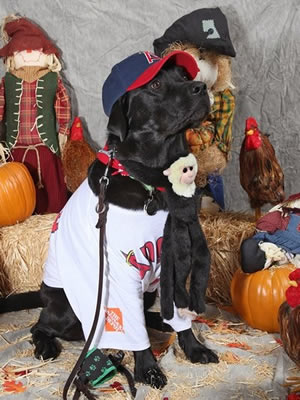 Yep, that's my boy.  We went eco-friendly this year and recycled some of our household items including a free Bobby Grich T-Shirt we received at the Angel game, a vintage 1980's Angel baseball cap that we also received for free, and finally a rally monkey that we purchased at the Angel game several years ago.  Stetson and the other dogs thought the rally monkey was a dog toy, but had trouble finding the squeeker.
Back to the Halloween Contest I mentioned earlier.  Here's the information:
We know that Halloween is over but we're still reveling in leftover candy and photos of costumed pets.   Send us a photo of your pet dressed up for Halloween.  If we pick it as our favorite, we will send you a set of EatBetter and Drinkbetter (affiliate link) bowls.  Hurry though, the contest closes November 30th.  Enter Contech's November Photo Contest
We reviewed both the EatBetter and DrinkBetter Dog Bowls here on the Puppy In Training website.  If you want win your own set the rush over to the Contech's November Photo Contest and submit your dog costume picture.
We'd love to see your Halloween dog costumes too.  Leave us a link in the comments section below or send me your images at ckmorita [at] puppyintraining [dot] com and I'll put together a post with your Halloween dog costume.
Top Picks For Our Puppies
Check out more of our favorites on our New Puppy Checklist.