How To Keep Your Puppies Out Of Trouble With The Carlson Portable Pet Pen
This post may contain affiliate links. We may earn money or products from the companies mentioned in this post.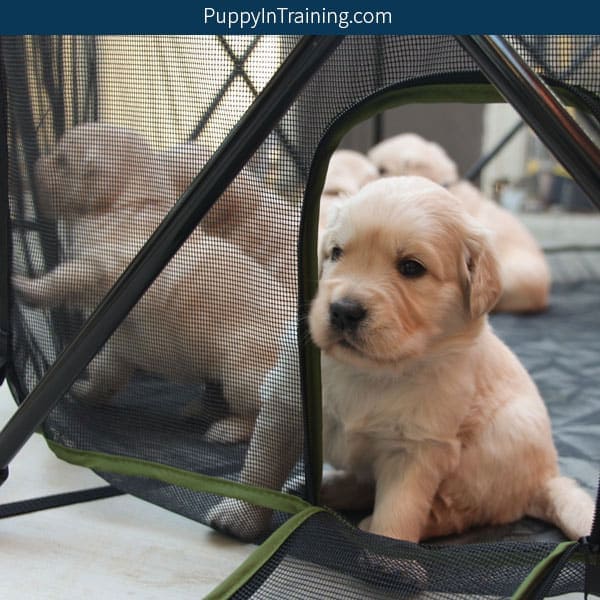 This post is sponsored by Carlson™ Pet Products. I am being compensated to help share the Carlson Portable Pet Pen, but we only share information we feel is relevant to our readers.  Carlson™ Pet Products is not responsible for the content of this article.
Can you believe our litter of Golden Retriever puppies are already 5 months old!?  I still remember six little puppies running around the house, gnawing on the walls like termites, chewing on my slippers, and finding the perfect spot on the floor to pee or poop.  So, the question of the day?  How to keep your puppies out of trouble?  During those early days we had three ways to keep our pups out of trouble:
A Homemade Whelping Box
A Laundry Basket
Without the whelping box and the Carlson Portable Pet Pen (oh…and our trusty laundry basket) it would have been mayhem in the house!  We did a first look review of the Carlson Portable Pet Pen back in December when the puppies were a mere 4 weeks old (actually I think they might have been a wee bit younger than that).
Today, we take another look at our puppy playpen to see how it held up to the puppies as they got older.
How Do You Keep Puppies Out Of Trouble
I know some of you hate the idea of containment especially when it comes to crate training, but containment is a great way to keep your puppy from getting into trouble.  It's especially important if you have a litter of puppies because quite frankly it's impossible to keep a constant eye on six curious pups.
We needed an alternative to the whelping box and when puppies are just little guys, containment was as simple as a laundry basket: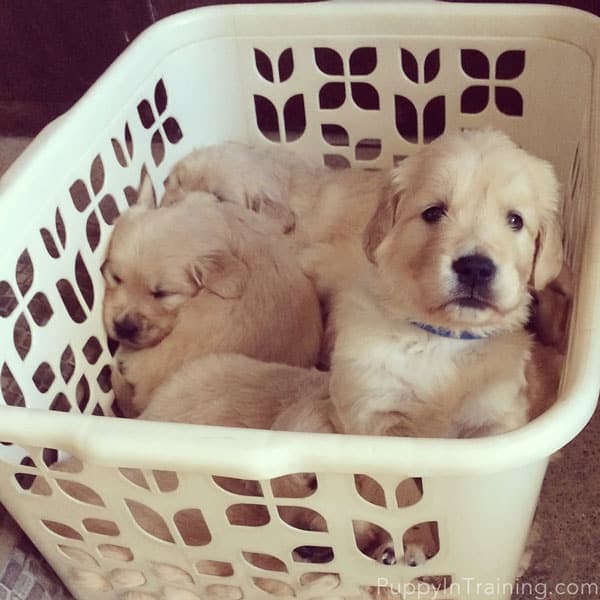 Awww…the laundry basket days.  Whenever I needed to clean the whelping box everyone just plopped into the laundry basket.  Unfortunately, puppies grow and eventually they were crawling out of the basket. 🙁
At around 6 weeks of age the laundry basket was no longer an option so we turned to the Carlson Portable Pet Pen: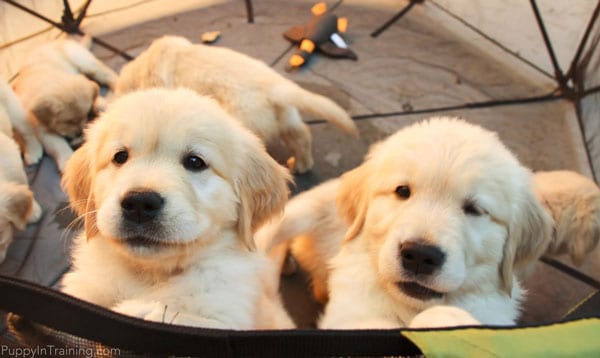 We setup the Carlson Portable Pet Pen in our atrium which was great anytime we needed to cleanup the whelping box or give the pups some fresh air.  It was a perfect play area for our litter of pups.
…and guess what?  It even works for our 5 month old puppy…kind of…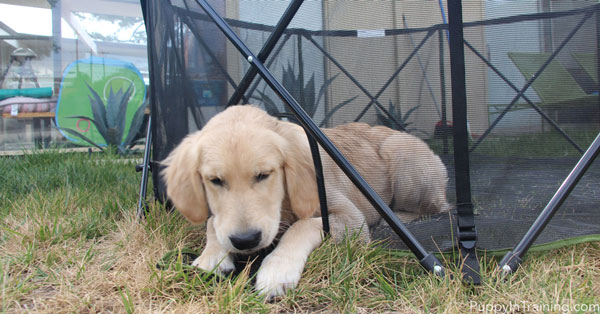 At 5 months old Bear could still fit through the little pet door, but it's a tight squeeze.  A few more weeks and he'll probably get stuck in that little opening.
Finally our 70 pound mama Raven wanted to give our Carlson Pet Pen a try…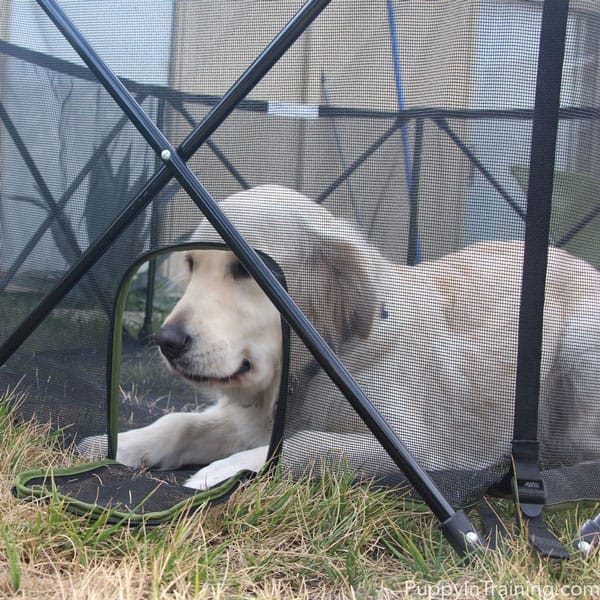 It was back breaking to get Raven over the side walls.  Still on my wish list would be some sort of opening for larger dogs to get in and out of the Carlson Pet Pen.
Bonus points if you know where this movie quote comes from: "You're not squeezing me through that tiny door."  Think German accent…Answers accepted in the comment section below.
Carlson Portable Pet Pen Video Review
We even had the chance to capture some live action of the puppies in our Carlson Portable Pet Pen.  Check out our video review:
And It's Portable (oh yeah, that's part of the name)
Yep, the Carlson Portable Pet Pen is not just for home use to keep your litter of puppies out of trouble.  If you have a small or medium sized dog you could use it on any outing where you might need to keep your dog safe:
In the backyard
At the park
On the beach
While you're camping
By the way, you'll notice I mentioned small or medium sized dog.  We have one thing on our wish list for the Carlson Portable Pet Pen…a door or gate to allow us to get our bigger dogs in and out.  It's a little a lot difficult to get a 70 lb dog over the 26″ side walls.
So, for now we'll use our Carlson Portable Pet Pen for the puppies which is okay because as service dog puppy raisers we have a new puppy at least once a year.
After all this rambling the question remains: how do we keep our puppies out of trouble?  CONTAINMENT!  The Carlson Portable Pet Pen is great for keeping puppies, small, and medium sized dogs out of trouble.
What about you guys?  What do you use to keep your puppies out of trouble?  Do you have a portable pet pen?  Tell us about your experiences in the comment section below.
Top Picks For Our Puppies
Check out more of our favorites on our New Puppy Checklist.