I'm Not Fat…I'm Just A Little Husky
This post may contain affiliate links. We may earn money or products from the companies mentioned in this post.
I'm not fat…I'm just a little husky!  It sounds like something I say every year after the holidays, right before I renew my gym membership and start working on my six pack…urummm….I mean my mini keg.
However, this time I was helping one of my friends train his puppy.  During one of the training sessions I decided to bring along my Golden Retriever, Apache to not only act as a distraction, but to give him a chance to work on staying in a down position calmly with a puppy in the room.
So what happened?  Well, puppy training went well and when they first met we happened to capture a great shot of Alchemy (Siberian Husky puppy) yapping while Apache (my Golden Retriever) has a goofy look on his face.
So I posted the picture in a few places…Facebook, Twitter, etc. and asked people to write the caption.  After many responses we have a winner!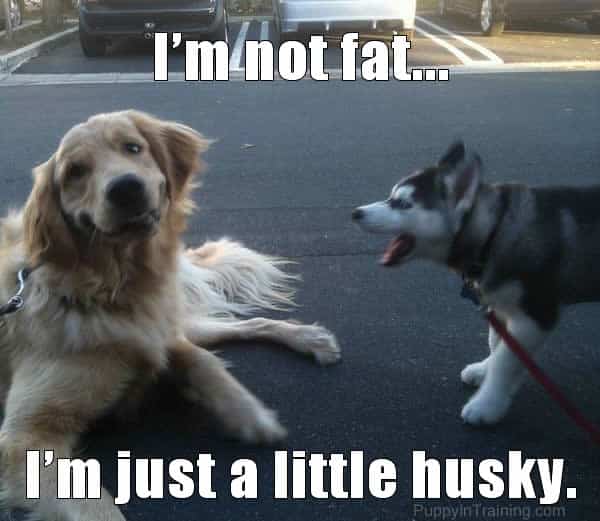 Classic Pic!  A Must See!  A great picture of a little Siberian Husky puppy yapping at a full grown Golden Retriever with a goofy look on his face!  The caption is spot on.  "I'm not fat…I'm just a little husky."  Love it!
Every once in a while I come across some funny dog pictures and I like to post them here on the blog, on Facebook, and on Twitter. So make sure you follow us. Here are the links:
If you've thought of a great caption for this pic then please leave us a comment in the comment section below.
Top Picks For Our Puppies
Check out more of our favorites on our New Puppy Checklist.