ComfortFlex Harness Review – Putting It To The Test
This post may contain affiliate links. We may earn money or products from the companies mentioned in this post.
I've been poking and prodding my brand new ComfortFlex Harness for the past couple weeks and today I'm going to give you my midterm review.  If you haven't had a chance then check out my initial review of the ComfortFlex Sport Harness here:
ComfortFlex Harness – In For Review
By the way I plan on giving away a free ComfortFlex Sport Harness to one lucky winner.  Read through this review to find out how to win this harness.
I've heard that a lot of people like to use this dog harness for agility training and that it works very well.  I've heard that many harnesses chaff under the armpits, but this one not so much.  Unfortunately, none of my dogs are involved in agility training.  However, I have been working with both Stetson and Linus and attending K9 Nosework training (I like to call it sniffer training or nose detection training).  One of the first things I noticed at nosework class was that all the dogs wore the exact same ComfortFlex Sport Harness that I received recently for review.  In fact, I knew this and Stetson was already using the ComfortFlex harness before I decided to put together a review.
Anyhow, today's review revolves around what I think of the ComfortFlex Sport Harness for my dogs regular everyday use and during K9 Nosework Training.
ComfortFlex Sport Harness
I have some detailed information in my first review of this harness, but here's some more information I pulled from amazon.com (affiliate link).
Product Features
Made in the USA
Fully padded nylon construction with reflective strapping across the chest, machine washable (line dry)
Ergonomic design allowing for a full range of motion with no irritation
Incredibly simple to put on and take off with redundant velco and safety snap closure
Product Details
Product Dimensions: 18 x 4 x 2 inches ; 5 ounces (for the X-Large, size will vary)
Shipping Weight: 5.6 ounces (for the X-Large, weight will vary)
Product Description
The ComfortFlex Sport Harness offers you and your dog only the highest standards of safety, simplicity and security. Unlike many harnesses, the comfortflex sport harness is designed to protect sensitive areas, like your dogs throat and underarm, during any level of excercise. Due to the dynamic position of the leash connection, pressure is always directed directly to the chest, never riding up on the dogs throat. The simple yet effective design also lets your dog retain a full range of motion without having to worry about underarm irritation or chafing. Getting you dog into this harness is incredibly easy. Just drop it over your dogs head, secure the velcro strap around his girth and connect the safety snap. With very little practice, this can even be done with just one hand. Reflective nylon staping is easy seen in low light situations.
Amazon Product Reviews
There were 9 reviews on Amazon.com 8 reviewers gave the ComfortFlex Sport Harness 5 stars while 1 gave it only 2 stars.
Lots of great stuff was said on Amazon.  Here's a sample of some of the 5 star reviews:
Great Product, Great Company…

Fantastic – easy, durable, comfortable…

Love these harnesses…
And the 2 star review wasn't even really a bad review.  In fact it's something I mention in my review below.  Here's exactly what the reviewer had to say:
I liked the construction and materials a lot!! Unfortunately, my dog is 80 lbs of muscle and a very strong puller. This did not stop him from pulling. I still had to wrap the leash behind me and hold it with two hands.
As far as I know the ComfortFlex Sport Harness is not built to deter pulling so if you plan on buying it to keep your dog from pulling then you're looking at the wrong dog harness.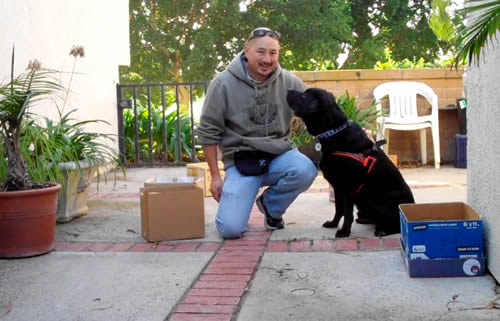 A Great Dog Harness For K9 Nosework Training
I've been using the ComfortFlex Sport Harness (affiliate link) with Stetson and Linus in their K9 Nosework Training and I must say I really like this harness for this type of training.  Here's a list of things that I really like:
Nice construction and very durable.
The reflective bands on the side make it easy to see your dog at night time or if it's dark.
Velcro and redundant snap buckle means this dog harness will not accidentally come undone.
Stiff construction makes it easy to put on your dog.
The way the handle is placed on top makes it easy to grab and control your dog.
Inner padding and placement of straps – I haven't noticed any chaffing on my dogs.
Easy to find metal ring on handle for clasping your leash
After putting the ComfortFlex Sport Harness to the test I did find a few minor things that I did not like and they were:
The buckle strap rubs against the velcro and has started to fray a little bit (it's all fuzzy now)
As I mentioned in my first review the price of shipping was very high and almost deterred me from purchasing this harness for my dog.  You can buy this product on Amazon.com (affiliate link)…hopefully the cost of shipping is lower through their site.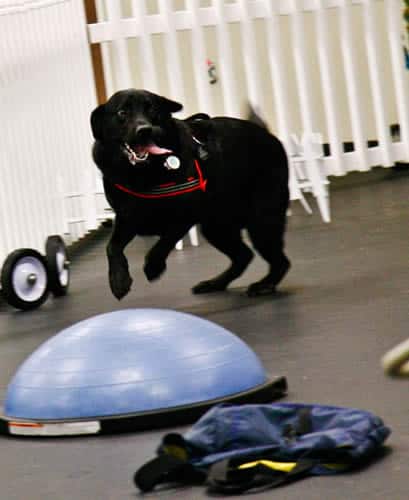 When I put this harness on my Black Labrador Retriever, Stetson he gets really excited because he knows it's time for nosework training.  The handle which is right above the shoulder blades is great for holding your dog before doing an off leash training run.  I have not experienced any chaffing in the arm pits or anywhere on the body and it seems like it would be a great dog harness for any canine sport.
I've used the ComfortFlex Sport Harness with Linus on daily walks and when working on his nosework training (I plan to use it exclusively for nosework after this review).  It works just fine for daily walks and very nice because pressure is directed towards the chest rather then the throat.  This is nice if your dog chokes himself with his regular flat collar or if he has a weak trachea.  However, if you're using this harness for strong pullers it may not be the best for your daily walks as your dog will be able to get a lot of force behind his pulling with pressure directed at his chest as opposed to the throat.  I've heard of dog harnesses that are built specifically for dogs that pull hard, but I have not yet personally used one.  I currently use a halti for my dogs who like to pull.
So do you want to win your very own ComfortFlex Sport Harness?  It's actually pretty simple.  Just leave me a comment telling me from what you've read so far about the ComfortFlex Sport Harness what is your favorite feature and why.
By the way, you can have 2 entrants into this contest.  Leave a comment on this post and leave a comment on last weeks comfortflex harness review post.
In two weeks (March 4th) I'll choose 1 random commenter from the comment section below.  Make sure you use a valid email address when leaving your comment so I can contact you if you're the winner.
A quick note…your chances of winning are pretty good because as of today the first blog post has only 16 comments thus only 16 entrants into the contest so be sure to leave your comment on both blog posts.  Best of luck to everyone!
Just wondering have you used a ComfortFlex Sport Harness?  What do you think about these dog harnesses?  Leave us a comment to become eligible for a free ComfortFlex Sport Harness!
Top Picks For Our Puppies
Check out more of our favorites on our New Puppy Checklist.