Puppy In Training Timeline Part 4
This post may contain affiliate links. We may earn money or products from the companies mentioned in this post.
The Puppy In Training Timeline is a series of articles chronicling my life with dogs and puppies.  Basically it's the long version of my "About Me" page and helps to show the influences in my life that led to where I am today with my dogs, puppies, and my writings on the Puppy In Training website.
Puppy In Training Timeline Part 4
Part 1 | Part 2 | Part 3 | Part 4 | and beyond…
2005 – 2010 – Finally…a puppy of my own!

Ralphie the Cairn Terrier Mix?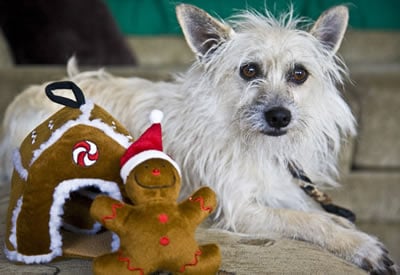 A few years after Maffy passed away my parents began looking for another dog.  While shopping at PetSmart they came across a small wire haired Cairn Terrier up for adoption from one of the local dog rescues.  I heard he was a wonderful dog in the store and a bit on the shy timid side.  When my parents got him home he was a little bit afraid to leave his crate.  We assumed he must have been abused with his previous family.
My dad ended up naming him after the Simpson's character Ralph Wiggum and today he's affectionately know as "Ralphie."  Ralphie appeared to be the shy timid dog in the beginning, but little did we know that he had tons of energy with springs in his legs.  He's a very intelligent, high-energy, protective, and possessive dog.  I'm not sure if he's typical for his breed, but if he is I would not recommend a dog like Ralphie to a first time dog owner.  He's definitely a one person dog and loves my dad and guards/protects him at all times (even though he only weighs about 10 pounds).
Linus the Australian Shepherd Mix
It was the beginning of the new year, January, 2005.  I had been looking for a dog since my birthday one month earlier.  Everyday I scoured the petfinder.com website looking for young dogs and puppies in need of a home.  On January 7th, 2005 I came across a few blurry pictures of a small black puppy at the Carson shelter in LA County.  The description said Australian Shepherd Labrador Retriever mix.  That matched two of the three breeds I was looking for in a dog.
We hurried over to the Carson shelter on a rainy winter day and found a small black male puppy with a tiny white spot on his chest sleeping next to his sister (a black and tan puppy)  on the cold floor of the Carson Shelter kennel.  I had been looking for puppies for the past month and noticed during my search that puppies were either hopping around full of energy or sleeping in the middle of nap time.  We went into the kennel and put the two puppies through a series of puppy temperament tests we learned from the how to choose a puppy section in the  Puppies For Dummies book .  Both dogs were very lethargic and we thought the male puppy might be a "passive" or "middle man" puppy and the sister might be a "middleman" or "next in line" pup.
We thought both puppies were great and initially I thought about bringing both home.  However, better sense took over me and I ended up taking home the little black puppy you see in the picture above.  In fact the first post on this blog was dedicated to my first puppy, Linus.
Rescue Dogs
George, Buttercup, Brisby, Cocoa, Sally, Blondie, Boots, and Sasha are just a few dogs we fostered for the local animal rescue Cuddly Canines.

George
My Australian Shepherd rescue dog, Linus inspired me to start volunteering with animal rescue organizations.  I first got the bug to volunteer with dog rescues while attending the OC Pet Expo.  The Pet Expo is a great place to not only find great dog products and learn about the many pets including birds, cats, dogs, snakes, lizards, etc., but also a great way to find information on getting involved as a volunteer.  We came into contact with dozens of dog rescues and ended up as a volunteer foster for a local rescue named Cuddly Canines.
Our first volunteer opportunity was with a litter of 4 week old German Shepherd mix puppies.  There were seven of these little critters and adorable as can be.  It was a ton of work raising those puppies for the next 8 weeks, but well worth it.  In fact one of the puppies, George was adopted by my brother and his girlfriend (now his wife).  George is a sweet dog, very intelligent, and a bit on the protective side.  Unfortunately, he has severe hip dysplasia, but he's been coping with it quite nicely over the past 4 years.
Guide Dogs
As I mentioned before, if you attend the Orange County Pet Expo you'll see there are many opportunities to volunteer and work with animals.  Another opportunity we were interested in was volunteering as a puppy raiser for either a service or guide dog organization.  We came into contact with several organizations including Guide Dogs of America, Guide Dogs of the Desert, Guide Dogs for the Blind, and Canine Companions for Independence.  We filled out an application to become a puppy raiser for all four organizations.
In the end we chose to volunteer with Guide Dogs of America mainly because the puppy raising group met about 5 minutes from my home and the school was only about an hour away.
Naomi, Ace, Nyah, Sydney, and Palmer are just a few dogs we worked with as puppy sitters for Guide Dogs of America.

Stetson the Black Labrador Retriever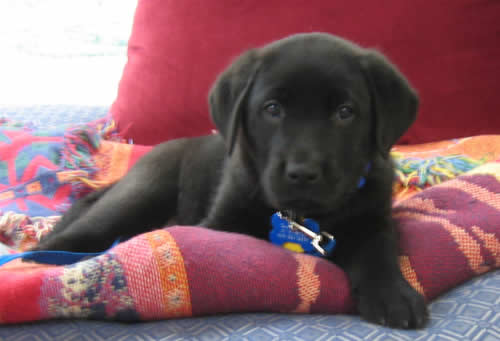 On February 9th 2007 I drove to the Guide Dogs of America headquarters and picked up my first Guide Dog Puppy In Training, Stetson.  The rules were different with Stetson.  We received a special handbook from GDA that told us exactly how he was to be raised.  He received a little yellow vest that signified him as a Guide Dog Puppy In Training and allowed him to enter restaurants, grocery stores, movie theaters, malls, etc.
Stetson and I worked our butts off and he was very well behaved.  At about 15 months of age Stetson headed back to Guide Dog School for his formal training.  Two months into the program we were told Stetson had been career changed (dropped) and I had the option to adopt him or let GDA place him with a family.
Today, Stetson lives the life of a pet at my house with Linus.  He enjoys the relaxation and stress free life.  In the future we hope to start up his therapy dog training again and get him certified with therapy dogs international.  We hope to work with children in reading hospitals, visit retirement homes, and hospitals.
Derby the Yellow Labrador Retriever
Not long after driving Stetson back to Guide Dog school I was contacted to raise another guide dog puppy in training from the "D" litter.   I only took a couple days before I decided I'd take on the task and started my search for a good puppy name starting with the letter "D."  As many of you know I went with Derby to continue the "hat" theme I started with Stetson.  Actually we ad a poll on this website to choose the most appropriate puppy name.
Not only was Derby the opposite color of Stetson (Derby was a yellow lab and Stetson was black), but a sharp contrast in personality.  Derby was high energy and athletic.  Stetson tripped over his own feet.  Derby could probably jump 5 feet straight up in the air.  Stetson had trouble jumping over my shoes.  Derby whined at all of our group meetings, trainings, and vet appointments.  I really didn't know what Stetson sounded like when he barked.
Derby was a lovable, intelligent dog and had a lot of nervous energy.  He was very good with his basic obedience, but had difficult staying quiet.  He was very affectionate and loved to lean up against you or sleep on top of Stetson (Linus wouldn't allow Derby to sleep on him).
Unfortunately, Derby was full of too much nervous energy and just had a tough time remaining calm in new situations.  He was career changed after 12 months.
I fought with the decision to keep Derby, but ultimately I thought it would be best for him to be adopted through Guide Dogs of America as they have a five year waiting list for their dogs.  My final decision was based on the fact that I lived in a condo with a small patio, I could no longer bring Derby to work with me (at work I'd walk him constantly throughout the day), and he loved to run.  Derby wasn't meant to live a sedentary lifestyle.  He reminded me of a great agility dog.  I always thought he would excel at splash dogs because he loved to jump.  My condo with it's 5×10 patio was not enough for him.  He needed room to run.
I was sad to see him leave, but felt good about my decision and I was confident that Derby would find a wonderful home with a large yard to run around and play in.
Dublin Another Yellow Labrador Retriever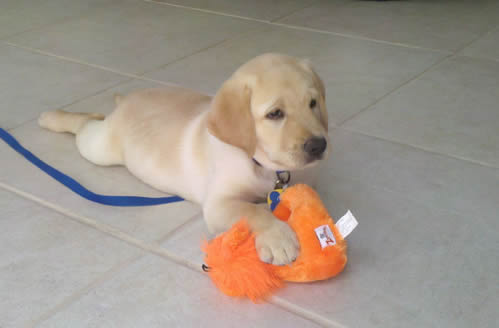 After dropping Derby off at Guide Dogs of America I mostly volunteered as a guide dog puppy sitter taking care of puppies anywhere from a couple days to a couple weeks.  I didn't raise my own puppy for over a year after Derby until another "D" puppy came into my life.
We picked up another Yellow Labrador Retriever named Dublin and this time we decided to shoot video of his adventures and called it Puppy In Training TV.
Even though Dublin looked similar to Derby he had a more even temperament and was highly intelligent.  Although he wasn't without his faults.  We worked very hard on his mouthy behavior (he loved to put his mouth on your hand and was quite the kisser).   His meet and greets with people was something that we worked on since day 1.
When Dublin was 16 months we got a letter in the mail letting us know that it was time for him to start his formal training.  About 1 month after getting dropped off Dublin sent us his first postcard to let us know he was doing great, was walking in his new harness, and learning how to do left and right turns.
Top Picks For Our Puppies
Check out more of our favorites on our New Puppy Checklist.