What Things Should I Consider Before Getting A Dog?
This post may contain affiliate links. We may earn money or products from the companies mentioned in this post.
It's been years since I adopted my first dog and thought about the question: What Things Should I Consider Before Getting A Dog? Adopting a dog is a huge decision and something you should not take lightly.
My girlfriend took me shopping several years ago…not for any old gift, but she planned on getting me a puppy as a birthday gift.  I was very hesitant at first, but we spent a wonderful day visiting several breeders and playing with puppies.  However, I did not make my final decision on whether a puppy would be right for me until over a month later.
I bought several books which not only outlined puppy training, but also the things you should consider before taking home that adorable puppy.
Here are a few things I considered before bringing a new puppy into my household: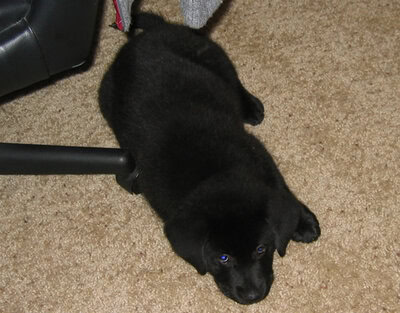 What Things Should I Consider Before Getting A Dog?
Researching the breeds – I did a lot of research into dog breeds considering my own lifestyle and how that would mesh with my new puppy.  I even considered the future thinking that I might need a dog good with children.  In the end I ended up getting a mixed breed dog, but he was supposedly mixed with two of the breeds I was considering: Labrador Retriever and Australian Shepherd.
Shelter, Rescue, or Breeder – We initially visited several breeders.  However, it didn't sit quite right with me.  I new there were many unwanted dogs and puppies at our local shelters and rescues.  I started searching for a puppy on Petfinder.com and ended up rescuing a puppy from the Carson Shelter in Los Angeles County.
Financial Situation – There are a lot of expenses to consider when adopting a new dog…just ask my friends who have spent over $10,000 on a Staffordshire Bull Terrier in the first couple years.  When I first brought Linus home from the shelter he had some serious issues including a stomach virus, extreme fleas, he was lethargic, and had worms.  Vet bills aren't the only thing to consider.  Food, toys, grooming supplies, flea and tick medication, dog training, collars, leashes, etc.  Those are just a few expenses you will encounter over the lifespan of your dog.  Not to mention he may destroy a few things near and dear to your heart.
Dog Training – In my book, every dog needs to be trained.  How do you plan on training your dog?  Go to the store and get some books or DVD's, take your dog to group training, private in-house training, find useful information on the internet, etc.  There are all kinds of things to do for dog training.  Just be sure to devote the time and effort to training your dog.  I took Linus to puppy group training and then basic obedience training directly after.  Since then I've taken Linus to basic obedience on three other separate occasions to keep him up to speed on his dog training.
Time/Attention for the dog – This was probably the most important thing for me to consider and also the reason why I didn't get a dog in the past.  I was actually taking time off from work for about a year and instead attending school.  I was also on winter break and had about 5 weeks to work on puppy training 24/7.  Those initial 5 weeks of constant supervision, in the end, really made him a well rounded dog.
Lifespan – Your dog won't live for ever, but I'd plan on having him for at least the next 10 years.  I'm hoping that Linus lives 15+ years.
Other Pets – We had a young cat that we were a little concerned might not accept our new puppy.  However, the two got along famously and became best of friends.
Those are just a few things I considered before getting a dog.  There are many other important things you might want to take into consideration as everyone is at a different place in their life and in a different situation.
The biggest thing I can say is get out there and educate yourself!  Read a good book like the Puppies For Dummies (affiliate link) book, do some online research (if you found this article then you've probably already started this process), talk to your friends, talk to dog trainers and veterinarians, make sure you do your due diligence before you make that final plunge and adopt a puppy.
What do you think?  What things should I consider before getting a dog?
Top Picks For Our Puppies
Check out more of our favorites on our New Puppy Checklist.