What Is Your Dog's Superpower?
This post may contain affiliate links. We may earn money or products from the companies mentioned in this post.
Didn't you know we are all born with a superpower?  That is we all have an enhanced ability that is superior to the average person.  Some of these abilities are quite useful while others not so much.
As an example in the human world, my wife and I have determined that my superpower is "Sleep"  I have the enhanced ability to sleep anytime of the day as well as sleep in well past noon if need be.  This ability came in handy when my first guide dog puppy would only sleep a couple hours a night.  I was forced to use my superpower and sleep during the day.  My superhero name: Sandman!
I believe that our dogs are born with superpowers as well.  Today, I'm going to reveal my dog's superpowers as observed by me.
What Are My Dog's Superpowers?
We have four dogs staying at the house: Two belong to us, one is a service dog in training, and one is a foster.  Here are bios, superpowers, and their given superhero names.  Please don't reveal their true identity to the public 🙂
Young Gun (The Regulator)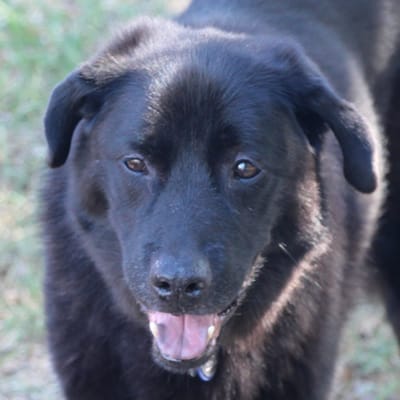 Dog: Linus
Age: 11 years
Breed: Australian Shepherd Mix
Origin: Rescued from Carson Animal Shelter
Super Power: The uncanny ability to regulate both animals and humans.
Description: He keeps the house in order.  If the puppies are getting out of hand he gives them an easy growl (or a hard one if the pups are going crazy).  He rounds up Raven and Archer when their running full speed around the yard.  I've even seen our "Young Gun" regulating my 4 year old niece and her friends when they were running too fast in the house.  Have you ever seen the movie Young Guns? or maybe you heard the Warren G song Regulate.  Just like Emilio Estevez (AKA Billy the Kid) Linus is a true Young Gun!
Chestnut (The Gourmand)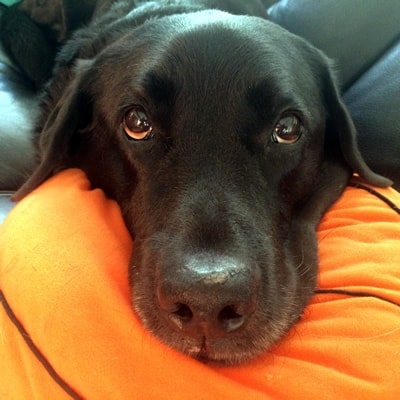 Dog: Stetson
Age: 9 years
Breed: Labrador Retriever
Origin: Career changed Guide Dogs of America puppy in training
Super Power: The uncanny ability to eat faster than any other dog.
Description: What's that you say?  You have a Labrador Retriever that could out eat our Chestnut (Stetson)?  We've had many challengers (probably over a hundred goldens, labs, and various other breeds), but none have outdone our other worldly dog.  He eats so fast we've been forced to purchase (and review) many of the different slow feeder dog bowls.  Stetson has assumed the superhero name "Chestnut" after competitive eater Joey Chestnut.
Bourne (The Spy)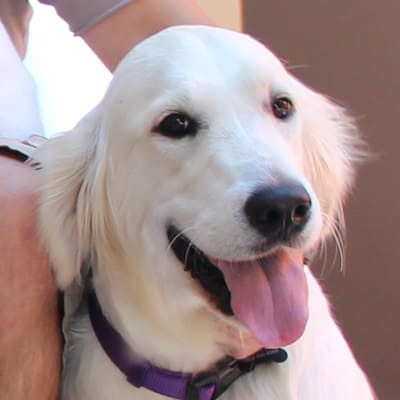 Dog: Raven
Age: 1 1/2 years
Breed: Golden Retriever
Origin: 
Super Power: The uncanny ability to spy through cracks in the blinds and underneath doors.
Description: We have roller blinds in our master bedroom.  When closed there's about a half an inch gap between the edge of the blind and the window pane.  Raven is constantly spying out that window keeping her eye out for cats, squirrels, skunks, and any stranger who may enter our backyard.  None of our dogs have ever spied through cracks the way Raven does throughout the day.  Dubbed the moniker "Bourne" after super spy Jason Bourne from the Bourne Trilogy.
Punxsutawney Phil (The Burrower)
Dog: Archer
Age: 6 months
Breed: Labrador Retriever
Origin: Trident Manor Kennels
Super Power: The uncanny ability to burrow through tunnels.
Description: In puppy kindergarten we teach all of our puppies to walk through the little agility tunnels (we got ours from IKEA).  While most of our pups get used to walking through these small spaces over a period of time, Archer has taken it to another level.  Our little "Punxsutawney Phil" can go in and out of our IKEA tunnel in a split second.  We found out his love for burrowing through these tunnels when at free play time he found a full length agility tunnel and proceeded to burrow back and forth trying to get his other classmates to join in the fun.  If you're not familiar with the movie Groundhog Day then you may have never heard of Punxsutawney Phil the fateful groundhog from the movie.
Those are our superheroes!  A Fantastic Four puppy edition!  Looking at each dog's so-called super power 3 out of 4 have characteristic specific to their breed.
Australian Shepherds are herding dogs and it's no wonder why Linus is a regulator.
Labrador Retrievers are notorious for eating fast and furious like our Gourmand, Stetson.
Archer has the long legs of an American Labrador Retriever and while I haven't heard burrowing as a trait for Labs I have heard that American Labs are more athletic and energetic like Archer going through a tunnel
What about Raven?  She's a Golden Retriever?  Golden's aren't known as the spies of the dog world.  Raven does have the typical Golden trait of being a velcro dog, but the peering through tiny cracks was a trait that jumped out at me that I haven't noticed any of my other dogs do.
So, what is your dog's superpower?  Does he/she have extraordinary abilities?  Tell us a little about your dog in the comment section below.
Top Picks For Our Puppies
Check out more of our favorites on our New Puppy Checklist.