How Much Does A Guide Dog Cost?
This post may contain affiliate links. We may earn money or products from the companies mentioned in this post.
Most people's jaws drop to the floor when they hear how much a guide dog costs.
Question: "How much does a guide dog cost?"
Answer: "$40,000 – $60,000″
Wowsers! That's a huge range and hella expensive!
So lets break this down a little further and see if we can dig into what and why it costs so much for a guide dog.
First, lets take a look at some of the guide dog schools in the United States and see if we can get a better idea of what it costs to train a guide dog.
How Much Does A Guide Dog Cost?
Initial Costs For A Guide Dog Team
You can see from some of the above snippets the initial costs that go into a guide dog team. A few of those costs include:
Breeding
Raising
Training
Instruction to the guide dog user
Instruction for the guide dog team
Equipment
Transportation to and from the school
Room and board during training
Follow up services
I'm sure if you sat down with the accounting department at one of these guide dog schools they'd have a myriad of other expenses related to a guide dog team.
Cost Of Ongoing Care Of A Guide Dog
Most of these schools offer guide dogs to individuals at no charge!
However, there are ongoing expenses that guide dog users are usually expected to endure after their initial match with their guide dog:
"At Southeastern Guide Dogs, we offer our services at no charge. This includes your dog, training, equipment and follow up service for the life of your team. We ask that our students be responsible for their own transportation to and from our campus, located in Palmetto, FL. We require that our graduates be financially capable of caring for and maintaining a healthy and active guide dog team, which we estimate to cost $900-$1200, annually." – Southeastern Guide Dogs
$900-$1,200 annually is similar to the range you'd spend on a pet dog.
Here's a list of some of my recurring expenses with my dogs:
Dog food/treats – we feed our dogs Wellness Core Grain Free Dog Food
Vet Checkups
Vaccinations
Licensing (in our city it's free to license a guide dog)
Dog Toys – there are so many toys on the market, but one of our favorite durable dog toys is the Nylabone Dura Chew – just don't let your dog drop it on your foot…ouch!
Other dog products:

Collar
Leash
Harness
Brush
Crate
Dog Bowls
Dog Bed
Check out our new puppy checklist for a comprehensive list of dog products you'll need for a new pup.

Grooming including bathing, nail trimming, brushing, etc.
Flea/Tick Medication
Heartworm medication
Those are some of the expenses off the top of my head.
I'm sure there are a few others.
Please chime in with a comment if you think of something I'm missing so I can add it to the list.
We put together a more detailed list of our estimates for a lifetime cost of a Labrador Retriever puppy which included some annual costs based on experiences with our Lab puppy, Archer.
Total Cost For A Guide Dog
Okay, folks let's tally up an upper-end total cost for a guide dog:
Initial cost for Guide Dog = $50,000
Ongoing cost = $1,200 a year
Estimated working span = 8 years
Total cost for a guide dog = $59,600
That total number does not include costs during retirement years and also no major medical expenses.
MORE INFORMATION: Guide Dogs learn tasks to help the blind and visually impaired. There are many other types of dogs that aid individuals with disabilities. Have you ever wondered how much it costs to train other types of service dogs?
This may be more than you ever wanted to know about how much a guide dogs costs, what expenses are associated with a guide dog team, and how much ongoing costs are for a guide dog, but for an analytical nerd like me it's interesting to see the details.
I'm happy to say that as a volunteer puppy raiser I get to be a small part in the process of keeping costs down so guide dog schools can help more blind and visually impaired individuals regain their independence.
So what about you guys?
Does just under $60K for a guide dog sound like a lot of money?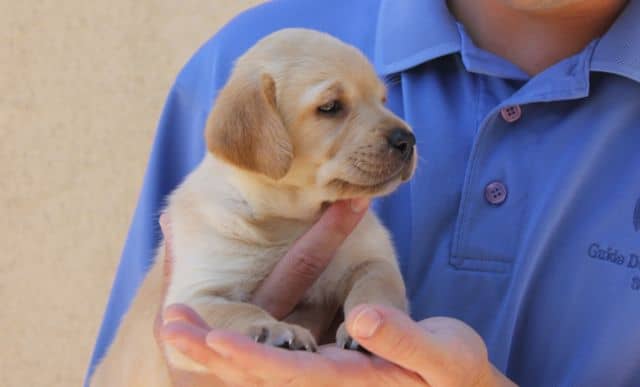 As a puppy raiser for 10+ years, I can tell you that selective breeding, and constant and specialized training for a puppy from birth until 2 1/2 years old can be an expensive proposition.
$40K-60K falls well inside my expectations for the cost of a guide dog team.
I hope that answers today's question: "How much does a guide dog cost?"
If you have any other questions (or answers) about the cost of a guide dog leave us a comment in the section below.
We'd love to hear your thoughts.
UPDATE: Over the past 5+ years we've been trying to do our part to raise, train, and place service dogs with individuals in need at no charge. Check out our post on how to sponsor a service dog to learn more about how you can help with our mission.
Related Articles:
Top Picks For Our Puppies
Check out more of our favorites on our New Puppy Checklist.