Pet Bloggers Journey 2021
This post may contain affiliate links. We may earn money or products from the companies mentioned in this post.
We interrupt our regularly scheduled program to bring you a blog post about blogging.
If you ever wanted to start a blog about your pet or you currently are a pet blogger then today's post is for you.
If you're looking for puppy training tips then check out our archive of blog posts. We'll be back to our regular scheduled programming tomorrow.
Would you be interested in attending an in-person Pet Blogging Retreat? That's exactly what we did a few years back. Check out our Pet Blogger Retreat blog post for more information.
So, what is the Pet Bloggers Journey? It's our blog post answering 10 pet blogging questions, but it's much more than that…
It's our chance to share our pet blogging accomplishments from the past year and share a glimpse into the future by sharing the hopes and dreams we have for our blog.
It's a time to support our fellow pet bloggers by sharing some of our own wisdom from the things we learned this past year.
It gives us the opportunity to learn from others and leave words of encouragement as we comment and follow other bloggers on this journey.
Without further adieu, here's our PBJ post for 2021:
Pet Bloggers Journey 2021
Check out our Pet Bloggers Journey informational blog post for directions about how you can join and follow other bloggers participating in this community event.
1. When did you begin your blog and what do you currently write about on your blog?
I launched my blog on August 1st, 2007. I write about my experiences raising and training service dog puppies.
2. Name one thing about your blog, or one blogging goal that you accomplished during 2020, that made you most proud.
2020 wasn't all doom and gloom. I took a step forward in several areas, hitting all-time highs in traffic and revenue. Since this is my full-time job that's a big deal.
Even though I hit record numbers, the one thing I'm most proud of this year is I finally asked for help. I hired a coach and I started bringing on writers to help with content.
In 2021 I'd like to continue what I started in 2020 and outsource more work to help with Pinterest, graphic design, content, social media, scheduling, etc.
3. Which of your 2020 posts was most popular with your audience? Why do you think it does so well?
When we picked up our black Lab puppy, Elsa in June my plan was to put together a series of posts tracking her week-by-week progress.
Unfortunately, I was overwhelmed and only able to put together a post about her first week home.
I wrote a very detailed post about bringing home an 8-week old puppy. Almost immediately I started receiving emails and comments thanking me for sharing my experience with Elsa and how helpful it was to hear about our experience raising and training her.
Someone even told me my post was better than the entire Puppies for Dummies book he ordered from Amazon! High praise for sure!
Here's the post in case you want to take a look: What Should I Expect From My 8 Week Old Puppy?
Oh, and why does the post do well? I tried to make it as detailed as possible and answer every question you'd have about an 8-week old puppy.
4. What was the biggest blogging challenge you faced in 2020, and how did you tackle it?
I'm sure a lot of us will have the same answer to this question. The pandemic has been my biggest blogging challenge.
I'm lucky that traffic and revenue have gone way up thanks to the pandemic, but besides those key metrics, other parts of my blog suffered.
We decided not to put our kids in daycare because of the pandemic. The big challenge is taking care of my 3-year-old daughter and 2-year-old twin girls and trying to blog at the same time.
I'm cherishing this time with my girls and enjoying every minute, but the truth is my blog has suffered because it's tough to work when you have three young kids running around the house like wild animals.
Oh, and did I mention we had a litter of 8 puppies to go with a 5-month-old puppy. It was a busy ending to the year.
It's definitely fun. It's definitely exhausting. I'm glad I get to spend this time with my family. 🙂
5. Tell us one thing you learned in 2020 that can help us all become better bloggers.
Constantly test new things. Small changes can have big results.
You can increase your ad revenue by making small changes like changing the size of your font, increasing the line space, making smaller paragraphs. Mediavine has an RPM Challenge that has helped me increase my revenue.
Test different affiliate programs and products. Some products will resonate better with your readers than others. Promoting the products that your readers are looking for will greatly increase your affiliate earnings. The trick is finding those products. You do this by testing and trying new things.
"Big things have small beginnings."

David – Prometheus
One more thing. Always check to see what your site/blog posts look like on mobile. There's a good chance the majority of your visitors are reading your blog posts on their phones.
Ten years ago 9% of my traffic was mobile. Today 79% of my traffic is mobile!
In my best Bob Dylan voice:
"The Times They Are A-Changin'"
6. What are your top three blogging goals for 2021?
The theme for my 2021 goals is diversify. Here are my top 3 for 2021.
#1. Diversify my traffic sources by mastering my email list – I'm part of an email mastermind group sponsored by AdThrive with live sessions beginning this Monday. I'm so excited to be part of a mastermind group.
Complete by January 31st, 2021.
My reward: If I successfully complete all the lessons in this mastermind group then I'll buy each one of my kids a special gift. Watching my kids open presents is my guilty pleasure. It puts a huge smile on my face.
#2. Complete all 15 challenges in Income Schools Ultimate Content Warrior Challenge – I don't expect to win the 55-pound tub of Thai Curry, but I've already learned a thing or two completing the first 3 of 15 challenges.
Complete by February 22nd, 2021
My reward: If I complete all 15 challenges? I'll order food for the family from our favorite Thai restaurant. If you haven't had Nam Sod Kao Tod you're missing out. Hopefully, they'll have the Roti for dessert. Sorry, Income School guys I won't be ordering the Thai curry.
#3. Diversify my monetization channels by releasing a product – Last year I tried hiring a coach to walk me through the process. Even though we pretty much completed the project, I missed the mark with my product offer and pulled the launch 2 days in. My plan is to relaunch with a new product that should better resonate with my audience.
I'm currently working through a product launch course that I plan to complete by March 31st, 2021.
My reward: Donate the first $500 in sales to my favorite charity.
7. In the perfect world, where do you see yourself and your blog one year from now?
In a perfect world, a 50% increase in traffic and net profit would be amazing!
In a perfect world, a more even distribution of traffic sources would be amazing. Right now traffic is heavily skewed towards Organic Search. In my ideal world this would be my traffic split in January 2022:
45% Organic
30% Social
15% Email
10% Direct
Less than 1% Referral and Other
In a perfect world, a more even split between monetization channels would be amazing. Right now income is heavily skewed towards affiliates. In my ideal world this would be my income split in January 2022:
50% Affiliate Income
20% Product Income
20% Advertising Income
10% Sponsored Content
One final thing. In a perfect world, I'll be able to celebrate birthdays and holidays with friends and family next year. I'm really hoping this will happen in the first half of this year. Fingers crossed.
8. If you had a $1,000 to spend on your blog how would you spend it?
I've had the same theme for over 5 years now. I've had the same logo for almost 13 years. I even wrote a blog post when I designed my own logo on July 30, 2008 (YOWZERS!).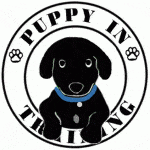 I think it's time for a change. I got an invitation to Mediavine's Trellis beta theme. The child theme designs aren't great so either I'll have to do some of the design work or hire someone to do it for me.
Two years ago I had a few designers work on updating my logo. I wasn't totally satisfied with the results so I held off on changing the logo. I think I'd like to revisit a logo update.
So, moving to Trellis beta along with hiring a designer plus updating my logo could hopefully be done for $1,000.
9. What is one skill you'd like to learn or improve in 2021?
VIDEO! VIDEO! VIDEO!
Another one I bring up every year. I did a series of videos for my guide pup, Dublin between 2010 and 2012. Since then I haven't done much with video.
Last year I published one new video. That's right, just one!
A big reason is my lack of skill as a videographer, scriptwriter, editor, actor, and everything else involved in creating a quality video. Plus I have stage fright. I need to up my video skill set.
I guess producing two videos would be an improvement. Doubling my year-over-year output! That's sad.
10. If you could ask the pet blogging community for help with one challenge you're having with your blog, what would it be?
Sorry, I'm going to throw two questions at you:
How do you organize, store, and backup your images?
What security measures do you take with your blog?
Thanks!
---
There you go! A glimpse into last year's achievements and this year's hopes and dreams.
Now that you've read through my post go and visit other bloggers participating in the Pet Bloggers Journey by clicking on the links in the table below.
If you are a participant don't forget to leave a comment including a link to your PBJ post and I'll add your post to the table.
I'll continue to add participant links up until January 16th, 2021, 11:59 pm PST.
Thanks, everyone, and all the best to you in 2021!
Pet Bloggers Journey Participants
If you'd like to participate in this year's PBJ make sure you visit our first blog post with information and details about the Pet Bloggers Journey.
Save To Pinterest
Top Picks For Our Puppies
Check out more of our favorites on our New Puppy Checklist.